Are you a dreamy traveler who loves to fuel your fantasies with great "reality" details? Or, maybe you're a real prankster who crafts his jokes really well? If you answered yes to either or both of these questions, then the Ticket-O-Matic app is perfect for you, because with it you can create the most convincing counterfeit bills you've ever seen.
If you need a fake plane ticket generator, you already have the solution at your fingertips: Ticket-O-Matic, an application with which "you can really create fake plane tickets" of the highest quality. This application is so efficient that it is a very good option to play pranks on even the most suspicious people.
And Ticket-O-Matic, apart from being a great app for generating fake airline tickets, is also very easy to use. Just continue reading and you will quickly understand how you should use this fun app to make the best fake plane tickets you can imagine.
Learning how to create the most convincing counterfeit airline tickets, with Ticket-O-Matic
With Ticket-O-Matic, the free app to create fake and convincing airline tickets, everything is very easy. It really is so practical and friendly that you can invite many of your friends to travel stress in a few minutes, giving them plane tickets, to their dream destinations. The hard part is going to be when they discover that the plane ticket is a fake, of very good quality, generated using Ticket-O-Matic…
How to Create your Fake Bills
The first thing you need to do to create fake plane tickets is to go to the website of the application to generate fake tickets, Ticket-O-Matic. Once there, just click the Get Started Now link in the middle of the page. From now on, following just a few steps, you will be a true expert in creating the best counterfeit airline tickets.
Enter the required data, among others, those related to the passenger and the information corresponding to the flight.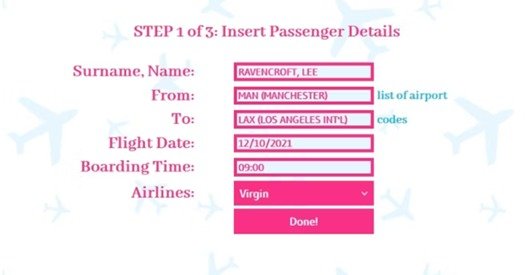 And the Ticket-O-Matic app is so well designed, that it integrates a link for you to access a list of airport codes from around the world. And although only 33 airline options are included, these are the most popular and recognized, which makes Ticket-O-Matic very practical and also gives more credibility to your fake airline tickets. Once you have completed the required information, click on the button that indicates Done and you will advance to the second step.
Proceed to download your fake plane ticket, which will be displayed like this
You can select between either of these two formats: PNG or JPG, which is lighter or smaller but has lower image quality than PNG. Decide which option you prefer and click on the chosen download button. You can also send the ticket if you wish, by clicking on the option Send me an email. Remember that if you do not download your fake plane ticket within 90 minutes, it will be automatically deleted by the Ticket-O-Matic application.
Ticket-O-Matic: Almost Perfect
This fun and efficient app, almost perfect, has some limitations that you should know about:
Does not allow selecting the seat number.

Does not allow easy manipulation of the generated image.

A flight itinerary cannot be designed as only one ticket is available.

The developer's logo appears in the lower left corner.
As an additional value, we offer you an excellent article that provides you with information related to the best applications to locate the cheapest plane tickets. You can also find sites where you can sell your non-refundable travel tickets.
Alternative Better than Ticket-Matic we Found Trixo
And if yours is to have fun with an application of this type, then we have good news. Trixo is a fake flight and is the best tool in the market. is another interesting application that you may also like. With it, you can generate perfect-looking fake airline tickets. It handles really compelling data like 13-digit PNR Numbers or Real Data from an API and gives the option of unlimited passengers on one free ticket. This is a friendly application that, as a fun tool, will give you a fast and efficient response and is so good that you can make very realistic creations, with which you can get into trouble if you don't use it responsibly.