Wichita Falls, nestled in the heart of the classic Texas plains and nestled between Dallas, Texas, and Oklahoma City, Oklahoma, is renowned for its cattle ranching history dating back to the 1800s. In this article, you can learn about things to do in Wichita falls.
Formerly known as an agricultural hub, Wichita Falls is now a bustling metropolis that has much to offer visitors, including beautiful parks, interesting museums, and charming attractions like the World's Littlest Skyscraper.
This is an excellent starting point for a trip to the panhandle region of the United States, with its farmer's markets and historical trails recalling the region's agricultural past.
32 Best Things To Do In Wichita Falls
1. Lucy Park
In a bend of the mighty Wichita River, Lucy Park is one of the best places to take in the natural beauty of this part of the United States. The park features a large duck pond with resident ducks and geese, and picnicking are popular in the area. You can pack a picnic and dine in the middle of one of the best green spaces in Wichita.
2. Kell House Museum
Are you a history buff? If so, the Kell House Museum is one of the top things to do in Wichita Falls and should not be missed.
This home was built in 1896, making it one of the oldest and most historic in Wichita Falls. Frank Kell, one of Wichita Falls' founding fathers, owned the home. In his honor, a heritage museum has been kept.
3. Lake Wichita
One of the best things to do in Wichita Falls is to spend a day in Lake Wichita, a vast man-made lake located near the city's iconic waterfall. Guests can enjoy a visit to the lake park, which features numerous hiking and cycling trails.
In addition, the lake is great for a family outing. Multiple picnic areas, a playground, and basketball hoops are available for use by tourists. You can also use the softball grounds, football fields, disc golf course, and other amenities in the park surrounding Lake Wichita.
Those interested in water-related activities will not be disappointed by the lake. This lake offers a wide variety of water activities, including canoeing, swimming, and boating.
4. McMahon Building
The Newby-McMahon Building, also known as the world's smallest skyscraper, is a Texas Historic Landmark that is 40 feet (12 meters) tall and is located in Wichita Falls Depot Square Historic District.
This skyscraper was supposed to be taller than it is now, but due to unforeseen circumstances, the skyscraper turned out to be a bad investment. Despite the original builders losing their investment in this skyscraper, the world's smallest skyscraper still stands as one of the few buildings that represent late Neoclassical design.
5. Wildcats Hockey Stadium
Consider paying a visit to the Wildcats Hockey Stadium if you are interested in observing something both historic and unusual. This historic building in the city is home to the Wichita Falls minor league team, the Wildcats.
If you are fortunate enough to attend a game between regional rivals, it will undoubtedly be one of the highlights of your trip to Wichita Falls. The spectators' loud cheers, competitive environment, and unending support for their individual teams are a sight to behold.
6. River Bend Nature Center
River Bend Nature Centre is a must-visit for anybody interested in learning about the various native flora and animals of the Wichita Falls area.
The environmental education center encompasses an astonishing 18 acres of verdant terrain and features numerous ecological attractions, including a butterfly conservatory and a children's garden.
There are natural trails dispersed around the site, and picnicking and exploring the grounds are permitted at your leisure.
7. Backdoor Theater
Since its founding in 1971, the Backdoor Theater has earned an unquestionable reputation for producing some of the state's finest artworks.
Weekends are reserved for performances on either the Main Stage or the Dinner Stage. Their performances include every element you could hope for. From comedy to drama to musicals to concerts that keep you on the edge of your seat till the very end, this theater has it all. Once a month, there is a unique event called "Improv Night." It has become a particular favorite among fans.
8. World's Littlest Skyscraper
The Newby-McMahon building, constructed in 1919, is a must-see attraction in Wichita Falls. The 40-foot-tall skyscraper is renowned for its cast-iron element and impressive red brick structure.
The construction of this modest tower is accompanied by an intriguing tale. After promising to build a skyscraper in the city, a self-assured con artist erected the structure. After its completion, it became a running joke to refer to it as the World's Littlest Skyscraper.
9. Alley Cat Vintage Mercantile
Since its establishment in 2009, Alley Cat Vintage Mercantile has collaborated with numerous pickers, artists, and other individuals to gather a wide collection of diverse objects. It has 3,251 square feet (3,500 square meters) of curios, antiques, recycled furniture, and unique finds. Additionally, it includes almost 7,000 vinyl records.
Shopaholics will like this site in Wichita Falls, Texas since there are several items to peruse and you may be surprised to find something that piques your interest.
10. Kemp Center for Arts
Kemp Center for the Arts is a place in the city that invites visitors of all ages, as it is an art gallery that hosts changing exhibitions. The facility is home to five galleries that display a variety of artworks arranged according to various themes and philosophies.
Additionally, there is a permanent 'Art on the Green Sculpture Show' with eight sculptures filling the lawns right outside the center.
In addition to displaying art, the center also hosts a number of activities. Among these are storytelling performances, musical performances, and exhibitions of children's artwork.
11. Castaway Cove Waterpark
The Castaway Cove Waterpark is a terrific destination for both adults and children, especially on a hot day, because there is something for everyone to enjoy here.
If you are feeling brave and don't mind getting wet, you may check out the flume slides, or you can opt for something a little more tranquil, like the Lazy River ride.
In addition, there is a rhythmic wave pool that simulates the ocean's tides, as well as volleyball courts and playgrounds for dry land entertainment.
12. Jenny to Jet Exhibit
Are you interested in the history of aviation? If so, check out the Jenny to Jet Exhibit at the Wichita Falls Regional Airport. Here you may learn about the history of Call Field and a World War I U.S. Army Air Corps training station.
This information is provided through displays of various uniforms, equipment, and multimedia displays. You can also learn about the first U.S. military training plane and a modern jet which is a training plane for the armed forces. This is one of the fun things to do in Wichita Falls for aviation enthusiasts.
13. Lake Kickapoo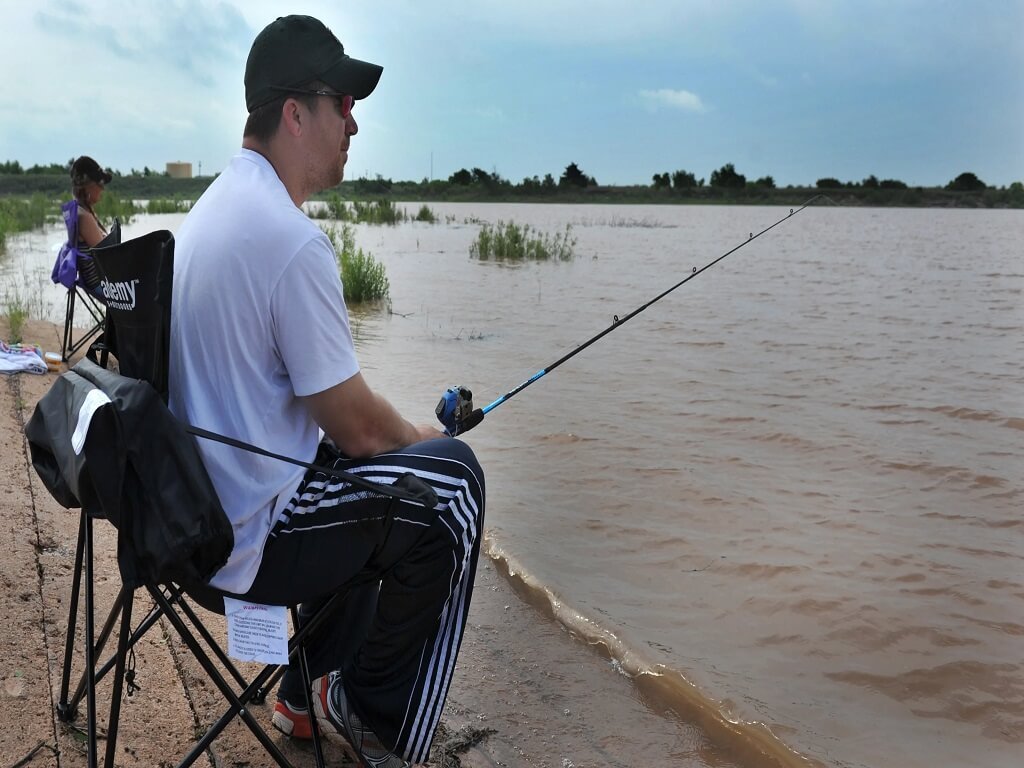 Lake Kickapoo, located 29 miles from Wichita Falls, is one of the top fishing spots in the region.
This reservoir was created in the 1940s and was given its name by the local Kickapoo people. One of the best things to do around Wichita Falls is to catch one of the many species of fish that are available here. Those who aren't interested in fishing can also enjoy boating and other activities. The best way to take in the surroundings and spend quality time with loved ones is by boat.
14. Wrestling Hall of Fame and Museum
Professional Wrestling Hall of Fame and Museum is a source of joy for wrestling aficionados. The Professional Wrestling Hall of Fame and Museum is devoted to preserving and promoting the history of professional wrestling and its greatest wrestlers.
It houses a large collection of memorabilia donated by wrestlers and fans throughout the years. In addition to preserving and showcasing wrestling memorabilia, the Museum sponsors numerous wrestling events, including live contests. It is inexpensive, entertaining, and exciting, making it a fantastic afternoon activity for the wrestling enthusiast in your group and a great addition to your list of inexpensive activities in Wichita Falls, Texas.
15. Wichita Falls Winery
We have one of the top things to do in Wichita Falls for you if you are neither nature nor a history buff, but if you are interested in how wines from different locations taste. Wichita Falls Winery is owned by a local family and is recognized for producing a sweet, well-balanced wine employing the city's extensive agricultural history.
There are barrels full of local wine created from Texas or California grapes and a tasting room where you can observe the winemaking process. You can also purchase a bottle at their gift shop. Just ensure that you have an appointment before going.
16. Depot Square Historic District
Depot Square is run by the Wichita Falls Historical Society and spans six blocks from Eight Street to Ohio Street. Many of the city's most notable cultural sites are located here, as well as numerous antique stores where you may purchase historical mementos.
This is the location of the local farmer's market and famous landmarks such as the World's Littlest Skyscraper, so take a stroll and explore the region on foot.
17. Maniac's Mansion
Here, you can enjoy both old coin-operated games and cereal bars. This is an unusual combination that can be found in the Maniac's Mansion, if not the only one. It gets more enjoyable with nostalgic arcade games. The arcade here hosts fighting tournaments and other intriguing gaming events in downtown Wichita Falls.
Relax and enjoy yourself with an abundance of cereals, sodas, games, and collectibles. So, you do not merely admire, you also observe, and you do not merely observe, you also participate. While in Wichita Falls, I'm sure you would not want to miss this opportunity. Therefore, you should visit their Facebook page to learn more.
18. Sikes Lake
Sikes Lake is a must-see for people looking for things to do in the vicinity of Wichita Falls. This picturesque water reservoir is bordered by numerous fantastic hiking routes. It is also a popular fishing spot and is home to numerous species, including channel catfish, largemouth bass, and yellow bullhead.
Apart from fishing, you can also enjoy bird watching here and soak in the picturesque views around the lake. Whether you are seeking to relax or go on a fun trek, Sikes Lake is a terrific site to visit in Wichita Falls!
19. Wichita Falls Farmers Market
Agriculture has always played a significant role in the development of Wichita Falls. This is what distinguishes the Wichita Falls Farmers Market as a distinctive yet vital establishment in the community. When you visit the market, you will observe local farmers selling the freshest of their food in the market's bays. For those who enjoy cooking, this is a veritable paradise on earth.
Here you will find much more than just vegetables. Here, everything is on exhibit, from baked goods and preserves to ceramics, potted herbs, pickled vegetables, and fresh produce. The marketplace also hosts a number of festivals. Carry a large bag with you since you will leave with things you didn't even realize you needed!
20. Holliday Creek Trails
The Wichita Falls Holliday Creek Trails begin at the upper end of Lake Wichita and loop back to the starting point
21. P's Crazy Car Museum
The P's Crazy Car Museum in Wichita Falls is a classic museum for automobile enthusiasts. Here, you may view a collection of more than 40 vintage cars, trucks, tractors, and other fascinating vehicles, as well as the evolution of autos in many countries.
The automobiles on exhibit include a 1930s race car and a 1941 Lincoln Zephyr. If you like what you see, you can purchase any of the vehicles. This gives you the opportunity to take home an actual piece of automotive history.
22. Plum Creek
Looking for entertaining and free activities in Wichita Falls? Adding another lovely lake to your Wichita Falls itinerary is a fantastic idea if you answered yes.
Plum Creek is another excellent area for fishing in Wichita Falls. Here, you may find a broad range of fishes such as blue catfish, largemouth bass, common carp, and more. However, do obey the Texas fishing restrictions specified for this area to prevent any trouble.
If you aren't interested in fishing, then you can explore the parks and the walking paths surrounding this small creek. You will find various seats to sit and enjoy the view of Plum stream along with some quiet time, away from the city. For families, this is one of the greatest sites for a picnic in Wichita Falls.
23. Wichita Falls Symphony Orchestra
Music is for the soul, and good music lights up the spirit, soul, and body. The Wichita Falls Symphony Orchestra accomplishes just that. This is a professional orchestra center that offers at least five (5) concerts during the year. Each season begins around October and winds up at roughly the last weekend in April.
All through this period, you witness exceptional productions for your amusement. It's definitely a classy center. Tickets are accessible as you may purchase them on a single admission or a "flex membership" appropriate for any two or three concerts. Also, there is a whole season package or a conductor/Pops series package. For aficionados of Western classical music, this place should not be missed for a reason.
24. Wichita Falls Railroad Museum
A caboose is the railway wagon especially meant for the staff and crew and attached at the tail end of the train Explore these wagons from the olden periods at this museum. It is located near the railroad tracks in the Historic Square downtown Wichita. It encompasses the rich history of the Railroads and railways of Texas.
With wildlife specimens on-site, this museum is an experience in its own right. You may actually get on board the railway cars, steam locomotives, and special carriages like the Cabooses, Pullman Troop Sleepers, and so on.
There are also some more artifacts shown inside. The in-house gift store includes some extremely adorable small souvenirs and toy trains which all the kids back home would enjoy!
25. CrashWorks STEAM studio & Makerspace
This is the area for kids to let their imagination run wild and make whatever masterpiece they can dream of. Kids may make any project they can think of with a limitless supply of materials! On one side of the studio is where guests may find all the supplies they need such as cardboard, plastic containers, scissors, paint, twine, etc. There are stations where students can disassemble electronics, play puzzle games, woodworking, and more.
Every hour an educator will present a science experiment which some are hands-on. While we were there we saw a demonstration on fire and another one where my son was able to create a flashlight. I honestly wish there was something like this in every city. All youngsters need an area where they can have hands-on learning and get to test out their understanding of how to construct stuff.
26. Urban Air Trampoline and Adventure Park
You shouldn't let the weather prevent you from having fun when visiting Wichita. You won't waste even one day of your vacation at our indoor trampoline park!
This isn't just for kids, but it's also for parents. This center organizes activities for all ages, from open jumps to fitness programs and even parties. Isn't it exciting?
You'll undoubtedly sweat out yesterday's calories with all that jumping, moving, and running about.
27. Murals Photoshoot
Every time I go to a new city, I adore driving around looking for the coolest murals. Wichita Falls has multiple murals dotted across town. My favorite is the Longhorn Steer Mural situated at 104 E. Scott Ave.
28. Wichita Falls Dog Park
So, you may tag along with your fur bestie and take them to this doggy heaven! It's a free, open environment for your furry companions to play and connect with other canines! Owners also get a chance to meet other dog enthusiasts too. This is the ideal location for a playdate or a picnic with just you and your dog.
Think of it as a doggie daycare or doggy day out to indulge your cherished fur baby. The park is a wide area to play fetch or Frisbee with your pets. Treat your dog to vacation too! Give them the day off they merit. Show your dogs that you care by including them in your activities as well.
29. Collective Coffee
Located across from the Midwestern State campus in a refurbished former gas station. The coffee shop is wonderful, having a spacious eating place to work and a large patio. The menu includes gourmet coffee, grab-and-go items, pastries, and craft beer!
30. Lake Arrowhead State Park
With two miles of walking trails accessible inside, it's the perfect place for some lightweight hiking or running in nature. The big grounds are packed with trees and grasses all around. With a little dusty ambiance and largely enclosed spaces, camping is a great pleasure here.
The lake is ideal for a relaxing dip before you sleep for the night. Additionally, you can go stargazing at night or observe birds throughout the day. This site undoubtedly delivers the best of both worlds when it comes to natural beauty.
31. Karat Bar & Bistro
Housed in the original Zales jewelry store downtown, the restaurant kept the jewelry concept alive for the restaurant. Guests will eat locally produced meals, prohibition-style drinks, and a large wine list.
We dined on a charcuterie platter for two, salad, and a burger. It was all great and priced decently. They also have a spacious patio that is excellent for cool evenings.
32. The Family Zone
It goes without saying that amusement parks are wonderful settings for spending quality time with your family. This place has rides that are child-friendly. In addition to this, there are family-friendly activities like laser tag, roller skating, an arcade, batting cages, go-karts, and more!
Fulfill your dreams of the eighties' roller-skating disco by trying out their skating rink! Get your groove on those wheels and put those heels away. Through the years, roller skating has remained a favored activity. This is just one of the numerous things you and your family can take part in when you visit Wichita Falls.
Conclusion 
Reward yourself with a brief respite from the city's bustle and go on a small retreat with your family or by yourself. Whatever you decide, there is always somewhere to go in the same country. If you're not prepared for that kind of commitment, you don't need to worry about going abroad.
Neighboring cities have hidden gems that you can visit without having to spend a lot. Simple vacations might occasionally be enough to satisfy a weary soul. It has been shown time and time again that travel reduces stress. Experience new places, meet new people, and learn about the culture. Other than that, there is no better fuel for the soul.
Traveling once a month isn't too bad, as long as you prepare for that adventure. It's nice that there are sites or blogs to help you pick where to travel or assist you to construct your own itinerary. Pack your luggage and make plans to visit Wichita Falls soon.
Frequently asked questions (FAQs)
Which are the best attractions to visit in Wichita Falls?
The Newby-McMahon Building, River Bend Nature Center, Professional Wrestling Hall of Fame and Museum, and Kell House Museum are just a few of the amazing attractions in Wichita Falls.
Which are the best activities in Wichita Falls?
With so many amazing attractions, Wichita Falls will also have a plethora of enjoyable activities that are sure to appeal to many travelers. Some of the coolest activities you can do include shopping at Alley Cat Vintage Mercantile, jumping around Urban Air Trampoline and Adventure Park, seeing Wichita Falls' art museums, and fishing at Lake Kickapoo.
Why do they call it Wichita Falls?
Wichita Falls, presently a city in Northern Texas, was formed back in 1876. The name of the city is an amalgamation of the initial population of the city i.e.
Wichita Indians and the low-river falls were wiped away by a flood in 1886. The city was historically famed for cattle ranching and for being an agricultural hub.
What is Wichita Falls known for?
Wichita Falls, sometimes known as the "Gateway to Texas," is a community featuring both contemporary and traditional architecture. Wichita Falls is noted for its burgeoning art scene, interesting outdoor activities, historic structures, and delectable local wines.
Many of the notable places that Wichita Falls is known for are the ones that have been a part of the city from its early days.
Is Wichita Falls a good area?
Wichita Falls has repeatedly shown up on lists of the best places in the United States of America
. A few of the reasons why Wichita Falls is considered to be a nice region include:
Is Wichita Falls pretty?
The town of Wichita Falls is a charming small community. This is a family town and everyone here is really kind and there are a lot of activities that can be done here like visiting the Falls and exploring the world's tiniest skyscraper. The parks are an excellent spot to take kids or have a day out and enjoy walking.
How is life in Wichita Falls?
Living in Wichita Falls offers inhabitants a minimal suburban vibe and most homeowners own their homes. There are numerous parks in Wichita Falls. Many families and young professionals dwell in Wichita Falls and inhabitants tend to lean conservative. Wichita Falls' public schools perform better than average.
Does Wichita Falls have a waterfall?
The city's original falls (the namesake of the city) were swept away in a flood in the 1800s. ' In 1987 a new waterfall was erected upstream. The modern 54-foot man-made waterfall is a multi-level cascade on the south bank of the Wichita River.
Where does Wichita Falls get its water?
Pumps are used to bring raw water from Lakes Arrowhead and Kickapoo into the city limits, where it is held at a secondary reservoir. The Secondary Reservoir maintains 75 Million gallons of water within the City limits.
What city dedicated a rock to the artificial waterfall of Wichita Falls?
The Falls is a concrete building with a rock face. A rock from Niagara Falls, New York, which is no stranger to waterfalls, was moved from Arkansas and donated to Wichita Falls.
Is Wichita Falls Urban or suburban?
"Wichita Falls is a city in Texas with a population of 104,494. Wichita Falls is in Wichita County and is one of the nicest locations to live in Texas. Living in Wichita Falls offers inhabitants a minimal suburban vibe and most homeowners own their homes. Wichita Falls has a large number of parks.
When was Wichita Falls Founded?
On September 27, 1882, a municipal lot sale gave birth to Wichita Falls. The arrival of the Ft. Worth & Denver railroad transformed Wichita Falls from a loose collection of shanties to a flourishing market area.
What happened to the falls in Wichita Falls?
The city's original falls (the namesake of the city) were swept away in a flood in the 1800s. ' In 1987 a new waterfall was erected upstream. The modern 54-foot man-made waterfall is a multi-level cascade on the south bank of the Wichita River.
Are Wichita Falls man-made?
Along the Wichita River, there is a man-made, multi-tiered waterfall known as The Falls. After the first waterfall was damaged in a flood back in the 1800s, the city felt that a greater waterfall was needed. The original, natural waterfall was only approximately 4-5 feet high.
Read More:
How to Shower When Car Camping?
Complete Guide To Delta WiFi Portal Login 2022