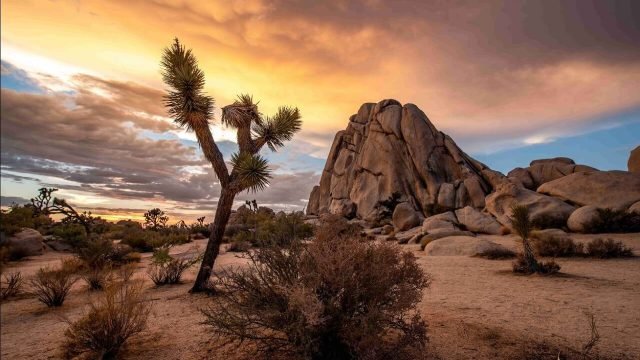 Joshua trees are succulents, which are a type of plant that can hold water. In their arid environments, however, they are regarded as desert trees. Mormon pioneers in the 19th century named Joshua trees after the biblical hero Joshua because they believed the spread branches guided them on their trip westward. In this article, you can learn about the things to do Joshua tree.
Before branching, Joshua trees typically attain a height of three to nine feet (0.9 to 2.7 meters) on a single trunk. The branches terminate in clusters of prickly leaves and spherical, white flowers. Typically, the diameter of the Joshua tree's trunk ranges from one to three feet (0.3 to 0.9 meters). Joshua trees can reach heights between 20 and 70 feet (6 and 21 meters), but rarely surpass 40 feet (12 meters).
Where to Stay in Joshua Tree?
The North Entrance (Twenty-nine Palms) and the West Entrance (Joshua Tree town) provide the most convenient access to a number of Joshua Tree National Park's most popular attractions. We have comprehensive information on where to stay in Joshua Tree, but the following three accommodations are ideal for couples, small groups, and families:
1. M&L Desert Cottage: This is a two-bedroom home located approximately six minutes from Joshua Tree's northern entrance. Completely restored, the cottage is the idea of desert chic.
Location: North Entrance/Twenty-nine Palms is the location. This entry to Joshua Tree National Park is our favorite because it is both accessible to many of the park's attractions and has a much quieter gate. Joshua Tree Town is a 20-minute drive from M&L Desert Cottage.
2. Castle House Estate: With guard towers, yurt tents, a tiny container house (the perfect opportunity to experience tiny home life!), and a vintage RV as housing alternatives, Castle House Estate truly captures the unique Joshua Tree vibe. It is the ideal combination of indoor and outdoor living, and the accommodations are exquisitely presented and extremely distinctive.
Location: West Entrance/Joshua Tree is the location. The Castle House Estate is ten minutes from Joshua Tree Town and twenty minutes north of the park's entrance.
3. Fairfield Inn & Suites by Marriott Twentynine Palms: Clean and well-equipped, the Fairfield Inn is one of our go-to hotels when we're traveling the park and need a place to stay that is clean and quiet. The hotel features a small pool in the backyard, complimentary breakfast, laundry facilities, and a grocery store across the street check prices today!
Location: North Entrance/Twenty-nine Palms is the location. When the park requires early mornings and late evenings, we choose the convenience of the Fairfield Inn.
45 Best Things to Do in Joshua Tree 
1. Hidden Valley Nature Trail
Hidden Valley is one of the most picturesque and easily accessible parts of Joshua National Park. It is ideal whether you want to go on a short hike or simply explore the trees and rock formations.
The Hidden Valley Nature Walk is an excellent one-mile loop trail that enters a vast bowl surrounded by granite walls through an opening. It is believed that Hidden Valley was originally utilized by cattle rustlers who would herd cattle into this area to conceal them due to its topography.
This is one of the most popular walks in Joshua Tree National Park, as it is a very easy and attractive trail. There are not many Joshua trees there. This trail is notable for the Great Burrito monolith, a popular climbing spot within the park.
2. Check out the Joshua Trees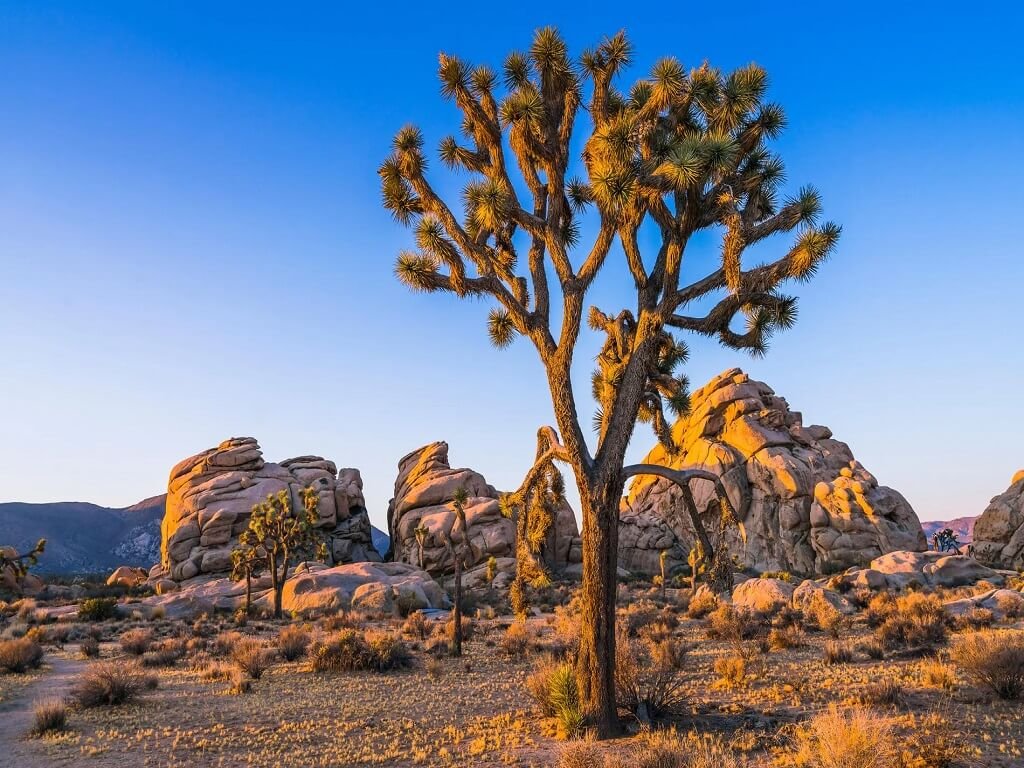 There are many things to do in visit Joshua Tree National Park, but the major attraction is viewing the Joshua trees. Joshua trees are quite bizarre: they resemble something Dr. Seuss would have imagined more than a real tree.
In truth, they are not strictly trees because they have fibers rather than growth rings; they belong to the yucca family. Early Mormon immigrants believed that the trees resembled the biblical figure Joshua raising his arms in prayer, hence the name Joshua tree. They come in a variety of sizes and forms. I believe that, like snowflakes, no two are identical. During my trip, I spent hours photographing Joshua trees, and I'm sure you'll want to do the same.
Stop at any of the pullouts along Park Drive; Joshua trees are virtually everywhere in the northern portion of the park.
3. Barker Dam
The Barker Dam Nature Trail is an easy 1.3-mile loop that gives beautiful views of the rocks and Joshua trees, as well as several small animals (you could even see a desert tortoise). We visited in the summer when the water was gone, but the boys still liked viewing the dam. The petroglyphs were a highlight of the walk for us. This was the first time we'd seen them with color – reds, and blues against the white sandstone was so beautiful.
4. Jumbo Rocks
At Jumbo Rocks, a sea of huge stones awaits exploration. This section of Joshua Tree National Park is laced with paths, or you can explore it on your own. These boulder formations are excellent for both rock climbing and photography.
Some of the boulder formations here are so recognizable that they have been given individual names. Visit Arch Rock and Skull Rock for breathtaking vistas. Arch Rock trail is an easy nature trail that will take you on a mile-long stroll through the formations.
5. Simi Dabah
Simi Dabah is a self-taught artist and welder who has been building steel sculptures from industrial scrap for over forty years. He is a prolific artist who believes that creating art from discarded materials is both environmentally friendly and inspiring to the viewer. His sculptures encompass a broad variety of non-representational shapes and span in height from tabletop to over 20 feet. The majority of outdoor furniture is kept in its natural state, rusting to a pleasant patina.
6. Noah Purifoy Desert Art Museum
Purifoy was born in Alabama, received his MFA in 1956, and began utilizing found items in his artwork shortly thereafter. A traveling show displaying sculptures composed of burned wreckage from the Watts revolt of 1965 garnered a great deal of attention. In the late 1980s, he transferred his art practice from Los Angeles to Joshua Tree. His work is included in the permanent collections of the Whitney Museum of American Art, the LA County Museum of Art, and the National Gallery of Art in Washington, DC.
The ten-acre museum is filled with what he termed "assemblage sculptures." Pat and Charlie maintain the property. Pat is the administrator and unofficial historian, while Charlie is the repairman. They strive to preserve Purifoy's vision by maintaining the sculptures' safety and functionality.
7. World Famous Crochet Museum
The self-proclaimed World Famous Crochet Museum, housed in a neon green photo booth, is just as cute on the inside as it is on the exterior!
The modest booth is overflowing with adorable and vibrant crochet pieces. The museum's enormous collection includes crocheted superheroes, unicorns, bears, and teapots. The World Famous Crochet Museum is part of Art Queen, a wacky art complex where recycled art is the dominant theme. The Crochet Museum is littered with incredibly fascinating installations and works of art for sale.
8. Keys View
The drive up to Keys View, a vantage point at a height of more than 5,000 feet with expansive vistas of the Coachella Valley, is definitely worth it. On a clear day, you can see beyond Mexico, the San Andreas fault line, Palm Springs, and the Salton Sea in the distance. If the air is clear, the view is breathtaking, and it's a terrific way to familiarize yourself with the local topography.
As you travel up here, the altitude shifts, the temperature becomes substantially cooler, and the scenery takes on an entirely new appearance.
9. Try to Spot Some Wildlife
Although the desert may appear desolate, it is actually teeming with species. You need only to slow down, maintain silence, and know where to look. I spotted a gray fox, coyotes, lizards, cottontail rabbits, Jackrabbits, ground squirrels, chipmunks, a golden eagle, hawks, quails, hummingbirds, and bats throughout my visit.
In addition to Joshua Tree, Joshua Tree National Park is home to bighorn sheep and an endangered turtle, neither of which we were able to observe. The park also contains rattlesnakes, scorpions, tarantulas, and mountain lions, but I had no desire to encounter them.
If you camp in the park, you are likely to encounter some of the more common creatures that frequent campsites. These include rabbits, chipmunks, and ground squirrels. At night, you may also hear bats chirping and coyotes howling. You have the highest chance of spotting bighorn sheep and other elusive animals (such as foxes) in the Wonderland of Rocks on the Boy Scout Trail or the Willow Hole Trail.
10. Skull Rock
The guys were quite enthusiastic about this one but be advised that it is PACKED with people. When we went hiking, we didn't see many people, but I believe that's because they were all here. In addition, it is easily accessible and requires no effort, therefore more people tend to stop here. It was nevertheless enjoyable to go outside and take photographs.
11. Stargazing
Joshua Tree's night sky is ideal for stargazing. Away from the haze of Los Angeles, the night sky in the desert is stunningly clear, making it easier to identify constellations. Camping or staying nearby in Joshua Tree National Park affords guests breathtaking twilight views.
Stargazing in Joshua Tree provides guests with a once-in-a-lifetime opportunity to view the Milky Way. Avoid traveling during the full moon, as the brightness can obscure your view of the night sky.
12. Giant Rock
Giant Rock is a massive freestanding boulder covering 5,800 square feet and seven floors in the Mojave Desert near Landers, California, that is revered by Joshua Tree Native Americans. According to legend, Giant Rock is the largest freestanding boulder in the world.
13. Krblin Jihn Kabin
This cabin art project is without a doubt the oddest thing to do in Joshua Tree, and it has prompted me to reevaluate my bucket list.
I have compiled a list of 60 things I want to do and see before turning 60. It features both magnificent scenery and urban escapades, such as the street art festival in Honolulu. There is a subcategory on that list dedicated to unusual attractions, such as Slab City, California (which is two hours south of Joshua Tree and worth a visit).
However, I had no idea that an entire parallel universe was waiting for me. With Kcymaerxthaere, artist Eames Demetrios is bringing this cosmos to life (pronounced Kymaaar-ecks-fear). Demetrios has envisioned a parallel universe with heroes, conflicts, religious battles, and all manner of life's muddle.
14. Beauty Bubble Salon and Museum
The Beauty Bubble Salon and Museum is an incredible coke hair salon museum. The hair wash stations and styling chairs are accompanied by an extraordinary assortment of vintage beauty products, vibrant wigs, and old-fashioned drying machines.
15. Camping
Joshua Tree is a fantastic treat for campers. Camping amid the Joshua trees, surrounded by strange rock formations, is a unique experience compared to a typical camping vacation.
A number of Joshua Tree's beautiful campgrounds are situated in convenient areas for visiting the park. Each of these has a unique appearance and atmosphere, yet they are all worth spending a night or two beneath a starry sky.
Spring and fall are the best times to camp here: March, April, October, and November. This is not gigantic RV camping: the parks are very tiny and mostly designed for tent camping, RVs less than 25 feet in length, or smaller pop-up camp trailers.
16. The Rock Climbers
Climbers travel from all over the world to Joshua Tree National Park to partake in one of its most popular pastimes, rock climbing. Many climbers may spend a few weeks here each winter, living in their vehicles and enjoying the moderate climate. The park has over 8,000 established rock climbing routes! As they scale seemingly insurmountable cliffs, it may be really interesting to observe climbers.
Best Places to Watch Rock Climbers in Joshua Tree National Park: There are so many climbing areas in the park that you are likely to encounter climbers or boulderers in practically any place. The Quail Springs picnic area, Intersection Rock, the cliffs around Hidden Valley campground, and the Hall of Horrors climbing area pull-out are popular spots to see climbers. These locations are well-marked and easy to locate from the main park road.
17. Ryan Mountain
This hike can be difficult due to the elevation, but I'm very glad we did it! It is a 3-mile round-trip hike with an elevation gain of 1,000 feet over 1.5 miles. We were advised to leave early due to the fact that it was summer, so we hit the trail at 8:30 a.m. I wish we had gone earlier because it gets so hot, but at least if you go early there is shelter from the mountain before the sun is directly overhead.
The views from the summit are breathtaking in every direction! The entire Coachella Valley and its surroundings are visible. Bring food for midmorning and enjoy yourself once reaching the summit. Remember that it takes roughly half the time to descend as it does to ascend!
18. Fortynine Palms Oasis Trail
The discovery of a verdant oasis in the desert is a delightful experience, and this trek should not be missed. This trek is free because the trailhead for Fortynine Palms Oasis Trail is located outside the park's entrance. This trail is slightly over three miles long and can be difficult in places.
You will see panoramic views of the valley and geometric rock formations from the walk. As you approach the oasis, you will notice some tall, unkempt palm trees that seem out of place. Keep a watch out for toads and other animals seeking water at the oasis.
19. Salvation Mountain
Passionately, Leonard made this spectacular "outsider art" masterpiece replete with biblical and religious verses such as the Lord's Prayer, John 3:16, and the Sinner's Prayer, as well as flowers, trees, waterfalls, suns, bluebirds, and several other fascinating and colorful objects.
As those who have made the pilgrimage will tell, one must see Salvation Mountain to really appreciate it. Its 50-foot height and 150-foot width are entirely composed of native adobe clay and donated paint, making it really unique in the United States and possibly the entire globe. From the Sea of Galilee at the base to the large red heart in the middle to the cross at the summit, "Love" is a reoccurring theme at Salvation Mountain.
20. Pioneertown
I heard Gene Autry's spirit singing along the main street of Pioneertown. Since he has been dead for nearly 20 years, that is creepy. I heard him, however, when one of his signature tunes wafted from the film museum.
Pioneertown was constructed by Roy Rogers' corporate group in 1946 with the intention of serving as a permanent film set. Numerous films and television productions, including the Cisco Kid series, Annie Oakley, Judge Roy Bean, and the Gene Autry show, were shot there.
21. Joshua Tree Saloon
The historic western-style drinking hole in Joshua Tree Town is one of the busiest spots in town. With a dark and rustic interior, the restaurant's decor and food are both excellent. There is nothing better than an ice-cold drink at the Joshua Tree Salon after a long day in the park!
22. Cholla Cactus Garden
The Cholla Cactus Garden is perhaps one of the most awe-inspiring locations in the park, with over a thousand densely packed chollas extending across the desert floor. While chollas are frequently found with other desert plants, these are the only cacti in this natural garden.
In the early morning or late afternoon sunlight, the backlit needles appear to nearly glow, while the distant mountains give the ideal backdrop. The Cholla Cactus Garden is located on the route to Cottonwood Spring, past the Belle and White Tank campgrounds, and is accessible through a flat, easy-to-navigate track.
23. Drink a Date Shake
Since the 1920s, Date Shakes have been popular in the Palm Springs area. Date farmers in the Coachella Valley south of Joshua Tree National Park needed to find a way to market dates to Americans, so they incorporated them into milkshakes. You must try a date shake if you've never had one before.
Where to Get Date Shakes Near Joshua Tree National Park: South of the park, in the Coachella Valley and Palm Springs, there are numerous places to find date shakes. Shields Date Garden in Indio is the place where everything began. Shields is a forty-minute drive from the Cottonwood Visitor Center near the park's southern boundary.
If that is too far, have no fear. North of the park, only Country Kitchen on 29 Palms Highway near the intersection with Park Boulevard provides date shakes. They are delectable!
24. Joshua Tree Music Festival
If you enjoy desert music festivals, check out the Joshua Tree Music Festival. This festival, held in May and October, features more than simply live music. Participate in a yoga class, sound bath, mindfulness workshop, or songwriting class.
The Joshua Tree Music Festival is an invigorating gathering of artists and music enthusiasts in the desert. The performances and genres of music are numerous, so there is something for everyone; who knows, maybe you'll find your new favorite band!
25. Smith's Ranch Drive-In
During your time in Joshua tree, you should visit Smith's Ranch Drive-in Theater if you've always wanted to see a movie under the stars. The cost per person to view the two films screened that week is $5 from Thursday through Sunday. Simply drive in, park, and tune your radio to the audio channel for Smiths Ranch.
26. Cottonwood Spring Oasis
Cottonwood Spring Oasis is a desert oasis with a constant spring. Currently, the average daily flow is roughly 500 gallons.
The Cahuilla Indians, miners, and prospectors have utilized the spring throughout the years since it was created by an earthquake many years ago. There are still remnants of old gold refining equipment and concrete structures.
Cottonwood Spring is one of the top birding spots in the park. The steady water source, trees, and shade attract birds and other species to the area. Keep your eyes out for Gambel's Quail, hummingbirds, bushtits, and the titmouse with the pointed cap.
27. The Ocotillo Patch
In Joshua Tree National Park, Joshua Trees and cactus are not the only noteworthy plants; enter the ocotillo. It resembles a tall, spindly cactus, but it is actually an evergreen plant. In contrast to other deciduous plants, which drop their leaves annually in the fall, the ocotillo develops and sheds its leaves numerous times a year – each time in response to rainfall. It occasionally produces vivid red flowers. These plants are quite interesting to observe and make for beautiful photographs, especially against the desert's blue sky.
The Ocotillo Patch can be found on Pinto Basin Road in the southern portion of Joshua Tree National Park. The Cottonwood Visitor Center is a 25-minute drive to the south, while the Cholla Cactus Garden is a 5-minute drive to the north. A modest sign is located directly before a parking pullout. Ocotillo grows on both sides of the road.
28. Offroading
While touring Joshua Tree on foot is possible, some visitors choose to see the attractions by bicycle. There are numerous dirt roads in the national park that are accessible to 4×4 vehicles and mountain bikers.
Take on the tough, bumpy 20-mile route in Pinkham Canyon or drive across Covington Flat to observe some of the park's largest Joshua Trees. On wheels, you may explore more of the park and observe more desert views than on foot!
29. Explore the Park
Provide ample time for exploring the park itself. Joshua Tree National Park is one of the most stunning and enchanting places on the earth, with its unique rock formations and distinctive Joshua Trees set against a bleak desert terrain.
In Joshua Tree National Park, there is an astounding variety of things to do, ranging from viewing the panoramic views at Keys View to exploring abandoned mines and ranches in the wilderness to stargazing under the pristine night sky. Check out our comprehensive guide to Joshua Tree National Park and the 20 top things to do in Joshua Tree.
30. Wildflowers in Spring
Springtime in the desert is spectacular, and Joshua Tree National Park is no exception. In addition to the Joshua trees, numerous other flora, shrubs, and cacti bloom in the park during spring.
The greatest site to see wildflowers may vary depending on the week of your visit, but in general, the region of the park around Cottonwood Spring and the road that goes out to Interstate 10 offers a fantastic array of spring wildflowers blooming in dense concentrations.
Not far from the Cottonwood Visitor Center, tens of thousands of miniature Joshua trees are strewn across the landscape, in some beautiful cities as far as the eye can see. The spring bloom here is more spectacular than that of the larger Joshua trees because the blooms are lower to the ground and closer to eye level, making them easier to see. From Cottonwood Spring to Interstate 10, there can be a kaleidoscope of colors, including yellow, orange, and red, as well as pink, purple, and blue.
31. Horseback Riding
Knob Hill Ranch, located just west of Joshua Tree National Park, allows guests to ride horses in the Mojave desert. Even if you've never ridden a horse before, you are welcome to participate in the Ranch's guided tours.
Knob Hill Ranch encourages guests to warm up on their horses in the corral and also offers lessons to ensure their comfort. Once you're comfy, you may ride to Joshua Tree and take in the vistas of the desert and mountains!
32. Desert Christ Park
Located on a slope in Yucca Valley, Desert Christ Park's forty white stone statues are a striking sight. The statues reflect the life of Christ, and the park is a calm and tranquil location.
33. Bird-Watching
The position of Joshua Tree National Park at the confluence of the Mojave and Colorado Deserts, paired with a few permanent waterholes, attracts birds from all over the world.
The park serves as a wintering habitat for white-crowned sparrows, cedar waxwings, juncos, and numerous other species. The larger roadrunner, colorful hummingbirds, red-tailed hawks, kestrels, and cactus wrens are among the resident birds. Usually keep an ear and eye out for Gambel's quail and roadrunners, which are always fascinating.
Barker Dam, Lost Palm Oasis, Cottonwood Spring, and the Oasis of Mara are the best locations for seeing birds.
34. Slab City
Near the Salton Sea, Slab City, often known as the Slabs, is an off-grid desert hamlet. Salvation Mountain is a large, colorful work of art located just outside of Slab City that is a favorite spot for photos.
The outdoor art garden in the East Jesus neighborhood features an abundance of eccentric art installations. Awaiting you are stacks of old televisions, whimsically decorated automobiles, a towering mammoth fashioned from deflated automobile tires, and many creations.
35. The Station
The Station appears to be a gas station at first glance, however, it is actually a Joshua Tree souvenir shop. It offers custom-made mementos, cacti in pots, and excellent coffee. Outside, a colossal desert cowboy towers over the station's foyer, compelling passersby to take a closer look.
36. Gaze up at the Stars
Due to its desert setting, clear evenings, and relative seclusion, Joshua Tree National Park is a great area to see the night sky. Joshua Tree has an International Dark Sky Park designation.
If you live in a city where light pollution obscures the night sky, you will be awestruck by the Milky Way Galaxy and constellations such as the Big Dipper and Orion's Belt. Due to the short days and long nights, winter is the finest season for stargazing, but be sure to wear appropriate clothing, as the temperature drops rapidly after sunset.
Allow at least 20 minutes for your eyes to acclimate to the darkness in order to view the stars in their full splendor.
37. Mecca Hills Wilderness
The valleys of the Mecca Hills Wilderness resemble the surface of an alien planet. This wilderness region south of Joshua Tree features routes with ladders leading into slot canyons.
Along these trails, you will cross layered crimson canyons surrounded by rock walls. The trails here are sandy and can be difficult, so bring sturdy hiking boots and a lot of water.
38. Route 66
Enjoy yourselves on Route 66! Even though Amboy is 45 minutes from Joshua Tree, it had to make the list because I've always wanted to drive Route 66.
The community is situated between Joshua Tree and Las Vegas and is home to the renowned Roy's Motel and Café. Everyone who passes buys a Route 66 root beer and poses in front of Roy's recognizable neon sign!
39. Heart Rock
This heart-shaped rock has certainly won our hearts! Heart Rock is located in the heart of a boulder field and is accessible via the Arch Rock route. Heart Rock is still a Joshua Tree hidden gem, and when we visited at sunrise and dusk, it was entirely to ourselves.
40. Start your day off right at The Natural Sisters Café
The Natural Sisters Café, located just outside the West Entrance to the park, is the ideal destination for your morning fuel. Fresh smoothies and wraps made entirely from organic ingredients are served in a cozy, friendly setting. Despite the popularity of their vegetarian alternatives, their black bean burger, killer bee smoothie, and vegan carrot cake are ideal for anyone who is hungry.
41. Murtle the Turtle, Joshua Tree, California
Murtle the Turtle, sometimes known as "Myrtle the Turtle," is a monumental turtle sculpture located along 29 Palms Highway. The enormous turtle sculpture is located between Sunset Road and Hillside Road on the south side of the roadway in Joshua Tree.
It is believed to be the "biggest tortoise in the world." Murtle the Turtle began as a simple float made of wire, wood, plaster, and cement, which was then coated with thick enamel-type colors. In 1957, the float was created for the town's Turtle Days Parade. Later, it was fashioned into a sculpture.
How to plan: Cincinnati, MD, OR Beaches, HI, Indoor Amusement Parks, Things to Do in Gatlinburg, WI, Orlando, Texas Beaches, WI.
42. Find the Elmer and Barber Pole Trees
Elmer Tree (above left) and the Barber Pole are two of the most well-known Joshua trees (above right).
The Elmer Tree is renowned for the numerous branches that sprout from its trunk. In contrast, the Barber Pole is notable for having very few branches. In addition, all of its branches are positioned at the summit of the exceptionally tall tree.
There is a small pullout on the side of the road where you can park and take photographs of the trees.
43. Check Out The Lost Horse Mine
Did you know that hundreds of mines once occupied the area that is now Joshua Tree National Park? Several thousand ounces of gold and silver were extracted from the Lost Horse Mine, which was among the most lucrative.
The moderately tough 4-mile out-and-back Lost Horse Mine Trail begins at Keys Road and is rated as challenging. You can also hike the approximately 7-mile-long longer loop trail.
The walk has Joshua trees, yucca, and spring wildflowers. You can observe the well-preserved mill from a safe distance. Beyond the mine, ascend to the vantage point for views of the valley.
44. The Integration
Twenty miles north of Joshua Tree National Park, The Integration is a singular white dome construction. In a 60-minute sonic healing session, The Integration provides distinctive quartz sound baths. Integration in the midst of the desert is a really unique experience, and the Sound Bath was one of our Joshua Tree highlights.
45. Panorama Loop Trail
The Panorama Loop Trail is approximately six miles in length and is located in Joshua Tree near Yucca Valley. The walk is of moderate difficulty and is lined with vibrant wildflowers. The greatest time to trek this trail is between March and October when a variety of activities are available. Panorama Loop Trail begins at an elevation of approximately 4,000 feet in the Black Rock Canyon portion of Joshua Tree National Park. The walk offers some of the most breathtaking vistas and unique plant life in the park.
Frequently Asked Questions (FAQ) about Things to Do Joshua Tree
What is so special about Joshua Tree?
It is an essential component of the ecosystem of the Mojave Desert, serving as a habitat for countless birds, animals, insects, and lizards. The Joshua tree forests tell a tale of perseverance-borne survival, resiliency, and beauty. They are silhouette that serves to remind us that we are at home.
Why is Joshua Tree so popular?
In recent decades, the Joshua trees in Joshua Tree National Park have been used in several fashion and film productions, including Selena's 1994 music video for "Amor Prohibido" and Bruce Springsteen's 2019 film Western Stars. It is a popular place for those in search of spiritual connection and artistic inspiration.
Can you just drive through Joshua Tree?
If planned in advance, it is possible to see most, if not all, of these Joshua Tree attractions in a single day. It takes less than 2 hours to drive through the entire park from the West Entrance to the South Entrance and with just 5 stops I have faith you can do it.
What is the best time of year to visit the Joshua Tree?
March to May and October to November are the finest times to explore Joshua Tree National Park. Although the park is open year-round, spring and fall are the most pleasant times to visit, with average high temperatures of about 85 degrees.
Do I need hiking boots for Joshua Tree?
Hiking Boots | Closed-toed shoes are a must in Joshua Tree. Instead of simply wearing sneakers, consider hiking boots. Not only do they give superior protection from spines on the ground, but they also reduce slippage on loose dirt and gravel.
Can you swim in Joshua Tree?
In actuality, there are no swimming holes in Joshua Tree, as all water must be protected for wildlife due to its scarcity and seasonal nature. Instead, approach the trail stealthily in the aim of spotting wildlife such as desert bighorn sheep.
What are the dangers of Joshua Tree?
The park is home to several dangerous wildlife, including rattlesnakes, scorpions, and black widow spiders. When hiking or climbing in the park, always check your surroundings before placing your hands or feet. Avoid entering or touching areas that you cannot see. In the event that their colonies are threatened, bees may strike.
Are there hot springs in Joshua Tree?
Joshua Tree National Park is a hiking, exploring, bouldering, and rock climbing destination. All within forty-five minutes of Azure Palm Hot Springs. Hike and explore during the day, soak in hot mineral springs in the evening, and relax in comfort at night at Azure Palm Hot Springs.
Is Joshua Tree worth the trip?
Yes! Joshua Tree is unquestionably worth the journey. Joshua Tree national park is highly diversified, featuring distinctive teddy bear cholla cacti, Joshua trees, and boulders. This park offers something that everyone can appreciate.
How many days should I spend in Joshua Tree?
You may easily spend three full days viewing Joshua Tree's attractions, not to mention hiking and exploring the surrounding area, among the other activities I propose. You may also use America the Beautiful pass, which might save you money if you frequently visit national parks.
Where is the heart rock in Joshua Tree?
Heart Granite is situated northeast of Arch Rock, atop a hill, on a flat area of rock. The diversion from the Arch Rock route takes approximately 15 minutes round-trip, but you'll also spend time at Heart Rock taking pictures and admiring the vistas! Heart Rock is one of our favorite hiking destinations in Joshua Tree.
Can you do Joshua Tree in a day?
If you only have one day at Joshua Tree, I recommend camping so that you may maximize your time. What are these? In Joshua Tree, there are eight campsites. Between October and May, four campgrounds are reserved by reservation: Black Rock, Cottonwood, Indian Cove, and Jumbo Rocks.