Grass Valley is the largest city in California's Nevada County and is located at a height of about 2,500 feet. Things to do in Grass Valley CA's history as a northern Gold Country city make it an ideal holiday spot for history and wildlife enthusiasts.
Accessible from Sacramento, Reno, and San Francisco, Grass Valley is a perfect destination for a weekend escape or stopover during a California road trip. Call the attractions and eateries in advance to confirm their current operating hours.
35 Best Things to Do in Grass Valley, California
1. Empire Mine State Historic Park
There are numerous aspects of the Empire Mine State Historic Park that make it unique. Not only is this location home to one of California's oldest gold mines, but it is also one of the state's largest, deepest, longest, and most productive mines. Before its closure in 1956, the mine produced an astounding 5.8 million ounces of gold over a period of more than a century.
Today, the park offers visitors the opportunity to see many of the mine's buildings, restored gardens, and even the mine owner's preserved residence. With 8 miles of easy paths, Empire Mine State Historic Park also offers a number of great opportunities for hiking.
2. North Star Mining Museum and Pelton Wheel Exhibit
The Nevada County Historical Society initiated a drive to rescue and maintain the North Star Mining Museum and the Pelton Wheel Exhibit, the county's hidden gem. This attraction is rich in Nevada County's mining history. Preserving them is the best approach to educating the public about mining practices in the past.
The North Star Mining Museum has an extensive collection of Gold Rush-era artifacts, photographs, documents, and mining equipment. There are both guided and self-directed tours available.. Visit the museum's website for more information about its operating hours.
3. Lucchesi Vineyards Tasting Room
The Sierra Foothills are home to Lucchesi Vineyards, a 20-acre (8-hectare) vineyard. In addition to the high quality of the grape varietals grown there, the region offers a spectacular view of the Sierra Nevada Mountains. This exceptional location optimizes the sun's rays and aids in ripening the fruit to an almost ideal concentration of flavor, color, and texture.
Due to the superior quality of these grapes, the vineyard produces delicious wine. Visitors get the opportunity to sample the wine through the vineyard's free tours and tastings. These include a tour of the winery and a tasting of the various wines produced by the vineyard.
4. Grass Valley Museum
The Grass Valley Museum, located in the heart of California's Gold Country, displays a rich history behind unassuming doors on the second floor of the St. Joseph's Cultural Center. The museum includes items and memorabilia that explain the history and tale of Grass Valley the small hamlet that produced two of California's richest gold mines.
5. South Pine Café
The South Pine Café is one of the most beloved eateries in Grass Valley for its great comfort food provided the entire day. This family-owned business in Grass Valley is well regarded by the community due to the owners' commitment to offering delectable dishes prepared using farm-to-table products.
Carne Asada Burrito, Spicy Jamaican Chicken Burrito, Garlic Onion Burger, Pine Burger, and Southwestern Turkey Mel are their finest menu offerings. South Pine Café is a popular eatery in Grass Valley; it is located at 6271-102 Richardson Street, Grass Valley, California. They begin preparing their delectable dishes daily between 8 a.m. and 3 p.m.
6. North Star Powerhouse Mining Museum
The North Star Mining Museum, the Video History Museum, and the Historic Firehouse No. 1 Museum, Nevada County Narrow Gauge Railroad Museum, and Grass Valley Museum are all worth visiting in Grass Valley.
7. The Historic Holbrooke Hotel
The Holbrooke Hotel, the best hotel in the area, is steeped in history. It has seen it all, from the Gold Rush to the 1855 fire that destroyed most of Grass Valley, to the time when Ulysses S. Grant visited there.
Spacious accommodations and a full-service bar make this an ideal jumping-off place for tourists to the picturesque tiny town. Best of all, the old-western feel will have you straight on track to savor the history of the entire town. Return to your hotel each night for Mexican-style meals and a fantastic saloon-style environment.
8. Bourn Cottage
Located in the Empire Mine State Historic Park. The Bourn Cottage was erected in 1897 and served as the house for the mine's owner, William Bourn Jr. The cottage displays an attractive layout and was created by Willis Polk, a prominent architect from San Francisco.
In addition to the formal gardens of the house and estate, a visit to the Bourn Cottage allows you to explore all 4,600 square feet of grounds. Some remarkable aspects of the home include its 1,500 rose bushes as well as native and exotic vegetation. One mustn't skip out on touring the interiors of the cottage, however, as it houses relics from the Bourn family history.
9. The Center for The Arts
As the name suggests, this location is dedicated solely to fostering visual, literary, and performing arts in Nevada County's local population. The Center for the Arts Grass Valley offers a huge collection of modern and contemporary artworks from the best of Nevada County's artists.
It sits on a huge 21,000-square-foot complex with distinct parts of exhibits, theater, galleries, and a classroom. It usually hosts more than 150 concerts annually, not to mention the exhibits and galleries they unveil weekly. The Grass Valley Center for the Arts is located at 998 Plaza Drive in Grass Valley, California. Check their official website for their official business hours.
10. The Louver
The Art Works Gallery and The Louvre are two art galleries/shops in Grass Valley. Stop in just to look at the art or possibly buy some.! Look for pictures, paintings, sculptures, and more – you can even get a bespoke framework done at The Louvre art gallery, which is a family business that also conducts art restoration and doubles as a framing store.
11. Or Opt for One of The Many Other Great Places to Stay
There are several lovely hotels in Grass Valley, many of them are run by local families who are dedicated to making their guests feel at ease. One choice is Grass Valley Courtyard Suites. This is a nice hotel made of tiny apartments that make you feel like you're in your own home.
Get a room at The Pines Motel and Cottages for a cabin-style hotel feel. There are several fantastic chain hotels as well that have their own Grass Valley flair to them.
12. Del Oro Theater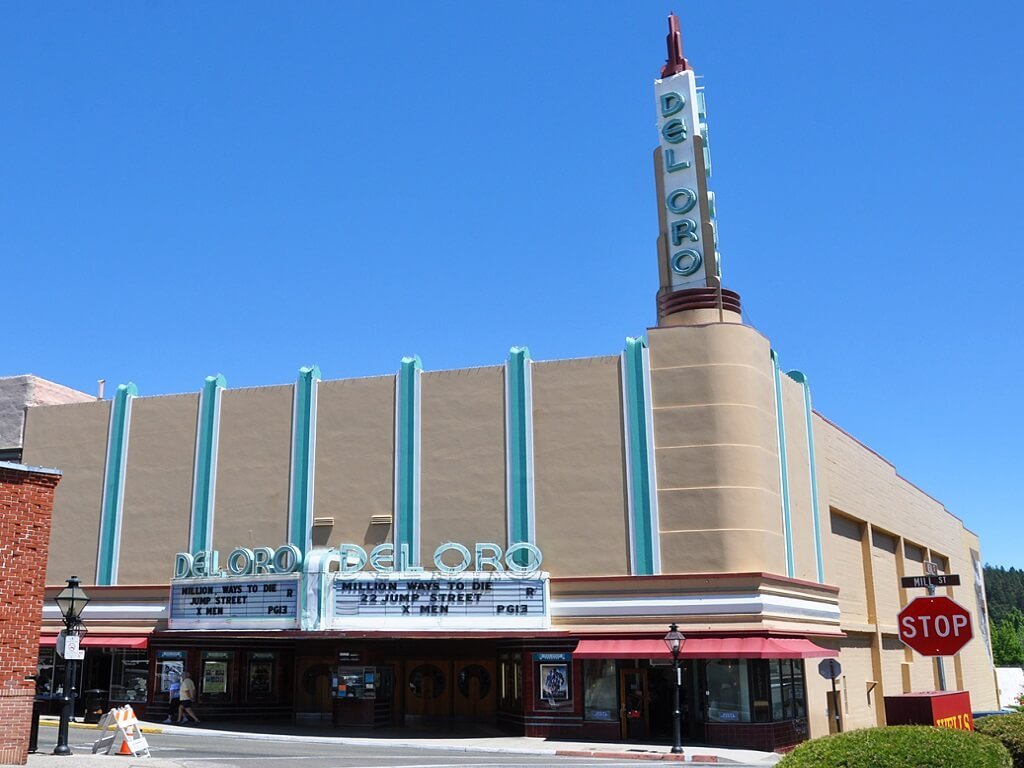 There's no doubting that the Del Oro Theatre, with its art deco neon spire, is an emblem of Grass Valley, California. United Artists built the Del Oro Theater in 1941, and it opened in 1942 as a single-screen movie theater in the Art Deco and Moderne styles of architecture.
Today, the Del Oro Theatre endures as a time capsule of the 40's movie culture despite having undergone repairs. Popular activities to participate in at the Del Oro Theatre include many ghost tours, which offer hair-stirring accounts of people meeting horrible ends or excursions to the underground passages of the theater.
13. Greater Grass Valley Chamber of Commerce
This place is where you'll discover firsthand what it was like back during the Gold Rush days. The property that serves as the Grass Valley Chamber of Commerce office is a must-visit place due to its well-preserved rustic building. Its design has remained unchanged since the days of the Gold Rush, transporting you back in time.
Also, it is an excellent destination for guests to find their ideal itinerary around Grass Valley. Their courteous team provides you with an itinerary of sites and things to do around Grass Valley. This location can be found at 128 East Main Street, Grass Valley, CA. The Greater Grass Valley Chamber of Commerce is open from 11 a.m. to 4 p.m., but they are closed on weekends.
14. Tour Other Gold Rush Landmarks
There are more historic sites and gold rush icons to explore in Grass Valley, such as the Bridgeport covered bridge, the Historic District, the North Star Historic Conservancy, and Bourn Cottage. I mentioned Bourn Cottage above, but I postponed talking about it until now because the Empire Mine deserved its own commendation. A 45-minute tour of the lovely villa and grounds will take you through its history, including that of the owners. You can see and experience the cottage, the Clubhouse, remnants of the residence, and the gardens.
15. The Animal Place
If you're traveling with children or want to learn more about the history of farming in Grass Valley, a stop at The Animal Place is a must. the perfect way to enjoy a great afternoon! You may take a tour that shows off the care of all the animals on the farm.
This is a terrific area to interact with animals that you might never get the chance to interact with. Pet cows, meet some turkeys, feed the goats, and snuggle a bunny!
16. North Star Historic Conservancy
Considering the long and rich mining history of Grass Valley, it only seems logical that among of the best things to do would be to explore some of its old mines. This is exactly what tourists can look forward to at the North Star Historic Conservancy, which is tucked within 700 acres of property.
The conservancy comprises two main mine shafts, stamp mills, and other operating facilities, all of which were active between 1851 and 1956. Apart from being a prominent historical destination, the North Star Historic Conservancy is also home to a magnificent walk of greenery called The Heritage Garden, which is a popular wedding venue for inhabitants of Nevada County.
17. The 49er Fun Park
Locals in Grass Valley frequently spend their Saturday afternoons with their kids at This mini-family entertainment park features fun-filled activities, such as arcades, go-karts, batting cages, and an 18-hole mini-golf course. If you're bringing kids with you to Grass Valley, they will likely find museums and old mines a bit boring, therefore the 49er Fun Park is the greatest place to let them have fun.
Its arcade and redemption area is full of amusement where kids may win tickets from their arcade games while their outside attractions cover over four acres of space. Their primary feature, their 18-hole mini-golf course, is a great family activity that you shouldn't miss. If you want more action, they feature a go-kart racecourse and batting cages. To visit this family amusement park is located at 314 Railroad Ave, Grass Valley, CA.
18. Tour a Vineyard and Enjoy Yourself
You know you're in wine country when there's more than one local winery. The Sierra Starr Winery, Lucchesi Vineyards, Smith Vineyard, and Naggiar Vineyards and Winery are all unique destinations with magnificent grounds to tour and conduct a wine tasting – hey, Why not plan a day trip to all four?
19. Shop for Antiques and Gifts
If antiques are your thing, Grass Valley is a terrific spot to find gorgeous treasures to add to your collection! Mill Street Vintage and Antiques is a little store with huge value to offer! Like most of the establishments in Grass Valley, this one is family-owned and the proprietors are always present to greet you! If you don't find what you need at this business, just proceed down the way to Grass Valley Antique Emporium.
Visit Cosmic Shark Clothing and support a company managed by two enterprising women who design personalized clothing, or go into Grass Valley Gifts for souvenirs and smart travel gifts for friends at home. For the people in your life who enjoy knick-knacks and candles, Heart and Home is a terrific shop to locate the most distinctive home items.
20. Naggiar Vineyard and Winery
An unexpected treasure found on a road less traveled, the Naggiar Vineyard and Winery is a delightful spot situated just off the usual route at the Sierra Foothills. Despite being one of the less frequented vineyards in the state, Naggiar is really home to some of California's most desirable grapes and supplies grapes to world-famous wineries all over the globe.
Of course, their most valued fruits are reserved for the benefit of their guests and are converted into magnificent wines by their winemaker, Derek Irwin. All of Naggiar Vineyard's wines are cultivated, produced, and bottled at the vineyard and regularly exceed expectations.
21. Sierra Starr Vineyard & Winery
For a one-stop wine shop, visit Sierra Starr Winery, which provides both award-winning wines and a distinctive gift shop. The winery is located in Grass Valley's historic downtown, where various landmarks and historical attractions may be found.
The winery's selection of acclaimed wines from California wine specialists includes the 2013 Phils Zin, the 2014 Phils Selection Zinfandel, and a number of other award-winning types. Additionally, you must taste one of their award-winning white wine types. The winery is located at 124 W. Main Street, Grass Valley, California. The Sierra Starr Winery is open on Fridays, Saturdays, and Sundays from noon until 5 p.m.
22. Hiking, Biking, River Rafting
The list of outdoor activities in Grass Valley is lengthy: hiking, biking, river rafting, kayaking, rock climbing, horseback riding, sailing, and fishing (and the list of hiking routes is much larger). Since I could go on forever, I'll simply suggest that you browse Grass Valley's website, which contains multiple resources for each of the aforementioned activities.
23. Towers Casino & Card Room
This family-owned casino welcomes novices and seasoned gamblers alike for an engaging and entertaining gambling experience in California. Multiple poker rooms in the casino provide a variety of games, including Texas Hold'em, Omaha, and others.
In Pingo, a poker-bingo hybrid game, players can also test their skill and luck. In addition to blackjack, the Towers Casino & Card Room also offers other classic table games. The casino provides a lively yet relaxing atmosphere for visitors to watch their favorite sporting events while sipping one of the bar's many beers or wines.
24. Enjoy a Hearty Breakfast at Tofanelli's Gold Country Bistro
Tofanelli is a popular restaurant in Grass Valley, renowned for its hearty breakfast and comfortable atmosphere. Tofanelli's vast menu extends much beyond its most famous breakfast offerings, yet the latter is the reason for the restaurant's appeal.
Many Grass Valley locals like frequenting this restaurant for its Eggs Oscar, Monterey Benedict, Jose's Special Scramble, Banana Pancakes, Pecan Pancakes, Huevos Ranchero, and many more breakfast options. In the meantime, their lunch menu has burgers, sandwiches, and vegetarian dishes made with fresh ingredients. If you plan to enjoy breakfast at Tofanelli's, they are open daily from 8 am until 3 pm. Located at 302 W Main Street, Grass Valley, California.
25. Rush to Grass Valley
Grass Valley provides something for everyone, regardless of their interest in history, wine, or adventure. There is never a dull moment in Grass Valley, which should be included in your travel itinerary if it is not already.
26. Shop for Beautiful Jewelry Find
Crystal Empire Gems is a charming jewelry company that offers a variety of bespoke pieces at various pricing points. This family-owned shop also sells rare stones and minerals, making it an interesting site to visit even if you have no intention of making a purchase.
If you are in the mood for some retail therapy, you can locate a one-of-a-kind piece created by a local artist in this shop!
27. Grass Valley Brewing Co
Visit the Grass Valley Brewing Company if you're interested in sampling some of Grass Valley's most inventive craft brews. With a passion for beer and an even larger passion for community, Grass Valley Brewing uses a variety of traditional and contemporary beers to attract travelers and residents with a shared appreciation for craft beers.
The ingredients of Grass Valley Brews involve more than simply barley, hops, and water; they also feature the magic of people who are exceptionally skilled at what they do and ensure that their enthusiasm goes into each can, bottle, and brew. The Grass Valley Brewing Company serves delicious food to accompany its assortment of beer and is also family- and dog-friendly.
28. Hike Around Condon Park
Condon Park, located in the southwestern area of Grass Valley, is a popular weekend and holiday destination for locals. It is a popular destination for outdoor recreation and leisure.
It has a picnic area, baseball diamonds, a skate park, a BBQ area, a community building, a children's playground, a basketball court, a large pond, and a viewing platform. Before you go back to your house, stop in Condon Park for a quick hike.
29. Visit a Piece of Local History
The historic residence of Lola Montez, who was renowned for her dancing and wild conduct, as well as for firing a gun into the crowd at the court of King Ludwig I of Spain Mount Saint Mary's Academy is the oldest Catholic school west of the Mississippi River that is still in operation.
Swan Levine House, which was a hospital in the early 1900s during the height of the Gold Rush, for a visit steeped in local history.
30. Lola Montez House
The Lola Montez House, a California Historical Landmark, was formerly the home. An internationally renowned singer and dancer who moved to California in 1853. At this residence, Lola Montez once hosted expensive salon parties, mentored Lotta Crabtree, and even kept a pet bear. Later in 1855, when Lola Montez departed Grass Valley, her home had been saved and renovated but was still condemned.
The house at 248 Mill Street is a duplicate of the one that was previously held by Lola Montez; it currently functions as a modest museum and the Nevada County Chamber of Commerce's office.
31. Grab something sweet at Corvus Bakery
This charming little bakery provides apple pie, pastries, and even paninis which are great. Enjoy a cup of coffee or tea while observing the street from the cozy and lovely interior of the Bakery. Best of all, the menu includes vegan and gluten-free options!
The proprietor is frequently present, and many of the servers have worked there for decades. There is nothing more enjoyable for me than asking a server what else I should do in a city and receiving a detailed, enthusiastic response. They may even recommend a spot to get a beer or cocktail before dinner.
32. Avanguardia Winery
The Avenguardia Winery is a small, ultra-boutique enterprise that specializes in non-traditional blended wines. Its winery is located in Nevada City and its tasting facility is in Grass Valley. The vineyard prioritizes harmony in its wines, ensuring that each bottle contains the ideal proportions of alcohol, tannin, or oak, and acidity.
33. Get a Pick-Me-Up with Some Coffee
There are numerous eateries and coffee shops in Grass Valley. This means that coffee aficionados can choose from a variety of unique local coffee shops for their morning brew.
Fable Coffee brews its own coffee and also provides a beautiful coffee bar to enjoy a cup of a pick-me-up! Carolines Coffee Roasters has a long history in the town and originated as a modest coffee cart.
Sierra Mountain Coffee Café is the place to go if you want to settle down at a café that specializes in artisan coffee. They prepare delectable baked goods and pastries in-house, and the quaint atmosphere will make you feel right at home.
34. Project Adventure
Since 1971 Project Adventure has been committed to developing learning communities by combining active enjoyment with experiential education to foster positive and lasting growth in all participants of its programs. Project Adventure has served K-12 public and private schools, veterans, and sports teams for over 45 years.
Their social and emotional learning programs provide educators and students with comprehensive SEL programs. In addition, they provide mindfulness training and programs that emphasize self-awareness, self-management, responsible decision-making, relationship skills, and social awareness.
35. Admire The Local Scenery
Because Grass Valley is situated in the mountains, you will have access to some of the most breathtaking landscapes you could ever want to see anywhere in the world! If you enjoy trekking, Grass Valley offers numerous opportunities!
For a simple hike, ascend the Hardrock Trail Loop. This is a simple stroll through gorgeous natural surroundings. Choose between the Hardrock and Osborn Hills Loop Trail or the Rough & Ready Ditch and Wildflower Loop Trail for a more moderate ascent with better views.
Conclusion
Grass Valley is one of the primary reasons why you should visit and explore northern California. Historic mines, museums, and well-preserved old structures contributed to the preservation of its rustic charm.
In addition, its wines and delectable cuisine add to the memorable nature of your stay. If you are planning a tour of northern California, be sure to include Grass Valley on your schedule and make this list official.
Frequently Asked Questions (FAQ)
What is Grass Valley?
Grass Valley is the premier provider of technology to the live media and entertainment industry. We power the media centers, mobile production units, 24-hour newsrooms, and sports streaming platforms of 90% of the world's leading media organizations.
What's it like to live in Grass Valley CA?
There are numerous parks and hiking routes. Grass Valley is an excellent place to reside. I've lived here my entire life, and it's a beautiful city. Everyone who visits comments on how gorgeous the scenery is, how kind the locals are, and how simple it is to navigate.
Is Grass Valley worth visiting?
Grass Valley is both traditional and eccentric, making it a destination well worth visiting. The historic downtown area has a wide variety of stores, most of which are independently owned. In addition to a historic landmark hotel and various delicious restaurants, the town features a historic landmark hotel. Additionally, there is an abundance of outdoor activities nearby.
What is Grass Valley CA known for?
The large quantities of gold unearthed and recovered from Grass Valley's rich underground mines are the city's claim to historical fame. In almost a century of mining, Grass Valley's mines have made it the most prosperous gold-mining town in California.
Is Grass Valley Nice?
Houston, Texas (4 December 2018) – The sixth edition of "America's 100 Best Places to Retire," a comprehensive handbook. The country's most alluring retirement villages have named Nevada City/Grass Valley, California, as one of the best places.
How did Grass Valley get its name?
The history of Grass Valley holds a unique place in our nation and the world. Historic downtown Grass Valley, California has been the center of this small village ever since travelers rested their cattle in the green fields after their arduous journey over the Sierra Nevada mountains.
Is Grass Valley in CA or Nevada?
Grass Valley is the major city in Nevada County's western section of California, United States. Located approximately 760 meters (2,500 feet) above sea level in the western Sierra Nevada foothills.
Is Grass Valley in Northern or Southern California?
The Surprising Northern California Town That Is Perfect For A Weekend Getaway. Grass Valley may be an unexpected weekend getaway destination in Northern California, but it should be on your list of potential destinations.
How did Grass Valley get its name?
The history of Grass Valley holds a unique place in our nation and the world. Historic downtown Grass Valley, California has been the center of this small village ever since travelers rested their cattle in the green fields after their arduous journey over the Sierra Nevada mountains.
How hot does Grass Valley get?
Summers are hot, dry, and mostly clear in Grass Valley, while winters are lengthy, cold, damp, and partially cloudy. The average annual temperature ranges from 39°F to 88°F, rarely falling below 32°F or rising above 95°F.
Does it snow in Grass Valley in December?
January to May, November, and December are snowy months in Grass Valley. Snow falls in Grass Valley on 0.5 days, with an average accumulation of 0.71 inches "of 18mm of snowfall. In Grass Valley, snow occurs for 6.8 days each year and accumulates to 14.41 inches "366mm of snowfall.
How much rain did Grass Valley get?
According to the Western Regional Climate Center, the Grass Valley wastewater treatment plant received 14.84 inches of rainfall through Sunday. This is a long cry from December 1996, when 27.81 inches of precipitation were recorded.
What happened to Grass Valley?
The united entity is known as Grass Valley. On October 30, 2019, Belden Inc. listed Grass Valley as a "discontinued operation" on its books and listed it for sale. Black Dragon Capital reached a definitive agreement to acquire Grass Valley from Belden Inc. on February 4, 2020.
What river runs through Grass Valley?
Wolf Creek flows approximately 25 miles from its origins in the hills east of Grass Valley, California, to its confluence with the Bear River, forming a 78-square-mile watershed. South Wolf Creek, South Fork Wolf Creek, Little Wolf Creek, and Rattlesnake Creek are tributaries of Wolf Creek.
Read More:
The Most Beautiful Cities In California To Visit
What is Travel Enthusiast: Best 35 Ways to Become a Travel Enthusiast
Exploring the Beautiful City with Barcelona City Tour Hop On Hop Off