Augusta, the capital of Maine, is an ideal summer vacation location. The city has existed since the 18th century when it was founded as a trading center. What was once a little city is now a significant source of economic and artistic inspiration for the entire state of Maine. In this article, you can learn about the best things to do in Augusta Maine.
The majority of Augusta's historical sites and monuments pay honor to all those whose efforts contributed to the city's growth. This city will teach you how vital it is to support and take pride in your local customs and products.
It is home to several museums, parks, restaurants, and other magnificent sites that will make you feel wonderful, calm, and content with your decision to choose this city as your vacation destination.
29 Best Things to Do in Augusta (Maine)
1. Maine State Museum
The Maine State Museum was established in 1836. However, its history is full of ups and downs, as it was closed six times prior to its 1971 opening. Currently, the state is funding the museum to prevent its future closure.
It features a wide range of exhibits, including replicas of historic storefronts, blacksmith shops, a sewing room, a mill in operation, and a locomotive. Some of the most popular exhibits in the museum are science-related objects. This museum is the ideal location to study the history of Augusta and Maine.
2. Fort Western
This fort was constructed in 1754, during the French and Indian War.
This wooden structure is a National Historic Landmark and is located on the Kennebec River in the city. It may be defined as a living museum that spans over 260 years and depicts the story of Augusta. You will gain an understanding of what life was like in the latter half of the eighteenth century through these visits.
Over the years, every effort has been made to ensure that any necessary repairs to the Fort have been carried out in a manner that preserves its authenticity.
3. The Pine Tree State Arboretum/Viles Arboretum
The former name of the Viles Arboretum was the Pine Tree State Arboretum. It is one of Augusta's most picturesque locations. A native plant garden, a lovely rock garden, and collections of lilacs and conifers can be found here. The Arboretum features 36 tree species chosen for their adaptability to urban environments. It is a lovely spot to unwind and explore some of the region's most stunning trees and natural plant species.
4. Fun at Capitol Park
Without Capitol Park, your list of things to do in Augusta, Maine, would be incomplete. In 2001, Capitol Park was added to the National Register of Historic Places as Maine's earliest documented landscaped landscape. It was established in 1827.
The park offers expansive green fields for public events, broad walks between four rows of a formal granite gateway, and ancient elm trees. Capitol Park features a bandstand and a magnificent grove for public speaking, as well as numerous tennis courts for a pleasant game.
The park also contains a lovely garden comprised of native trees and shrubs, making it an ideal spot to relax and pass the time. Capitol Park is a beautiful park with breathtaking mountain vistas and a pristine atmosphere.
5. Kennebec River Rail Trail
The Kennebec River Rail Trail may help you create a sense of connection with nature if you desire to. The park's nearly 6.5 miles of trails provide an excellent opportunity for a day of hiking. On the Kennebec River Rail Trail, you can cycle, run, or skate on the paved portions and enabled paths.
Some of the park's trails follow the Kennebec River and an old city rail route. If you wish to snap several photographs in the midst of so much natural beauty, you will be in a fantastic tourist location.
6. Kennebec River Brewfest 
For good reason, craft beer is growing in popularity; it is great and may be purchased locally. What is not to admire? The River Brewfest is the greatest way to commemorate this. Depending on the ticket you purchase, you might enjoy 5 hours of free 4-ounce samples of Maine's finest craft beers and free 1/2-ounce samples of spirits. What could be better than complimentary alcoholic beverages, live music, and a pleasant summer day?
7. The Augusta Civic Center
The Augusta Civic Center is a huge, 49,000-square-foot structure. It offers practically every type of entertainment imaginable in one location. Additionally, numerous events are conducted at this location.
There are gun shows that last over two days and feature a variety of firearms and military weaponry. The center regularly hosts performances that are often vibrant and feature the participation of internationally renowned musicians. Craft exhibits are also held at this site, displaying artifacts and other objects created by the city's artists and artisans.
8. Governor Hill Mansion
Originally constructed in 1902 as the residence of the state governor, this mansion now serves as a venue for events. Governor at the time was John Freemont Hill. He hired a renowned architect to create a mansion suited for a high-ranking official. It has three levels and was constructed using local stone.
Prior to shortly after World War II, it belonged to the family rather than the state. It is well-preserved, and daily tours of its rooms are accessible, although certain sections are leased as offices.
9. Visit Old Fort Western
Old Fort Western is an Augusta landmark with a history dating back to 1754. It is the oldest wooden fort in North America, dating back over 250 years. It is a renowned Augusta site that features the 1770 James Howard building with a basic store stocked by Mr. Howard to sell to immigrants upon their arrival. Old Fort Western provides a glimpse of what life was like in Augusta before the region was colonized. You will see what kinds of goods the store offers to those on their journey to their new outposts in the wilderness.
10. Holocaust Human Rights Center of Maine
The Holocaust Human Rights Center of Maine is housed in a stunning, contemporary building at the University of Maine. The architect who designed the structure was awarded a prestigious international design prize for its striking appearance.
The Holocaust Human Rights Center of Maine promotes the significance of human rights; it is maintained solely by volunteers. Permanent and temporary exhibits are included, and instructional activities for students in grades 6 to 12 are provided to schools across the state.
The Holocaust Human Rights Center of Maine provides educational programs on the Holocaust, human rights, and recognizing and combating prejudice. There are educational programs for multiple senior colleges and community organizations, as well as workshops and numerous seminars for professional development and adult education.
11. Brook Bond Recreation Area
Augusta, Maine contains a number of attractive natural places that inspire tourists to visit. You may be interested in Brook Bond Recreation Area due to the area's natural beauty and plenty of amenities. This 270-acre recreation area offers hiking, biking, and Nordic skiing.
The Brook Bond Recreation Area is open all year, although winter is the best time to visit. During these colder months, it is possible to practice Nordic Sky and enjoy the sport. The 20 paths of Brook Bond Recreation Area are accessible to the public, and the park is dog-friendly.
12. State House 
If you enjoy learning about the history of a location, you should also visit the State House in Augusta. This spectacular structure, located at the intersection of State and Capitol streets, is open to the public year-round from 9 am to 12 pm. There is much to see (including a collection of butterflies), so arrive early to breeze through the screening.
13. Senator Inn Spa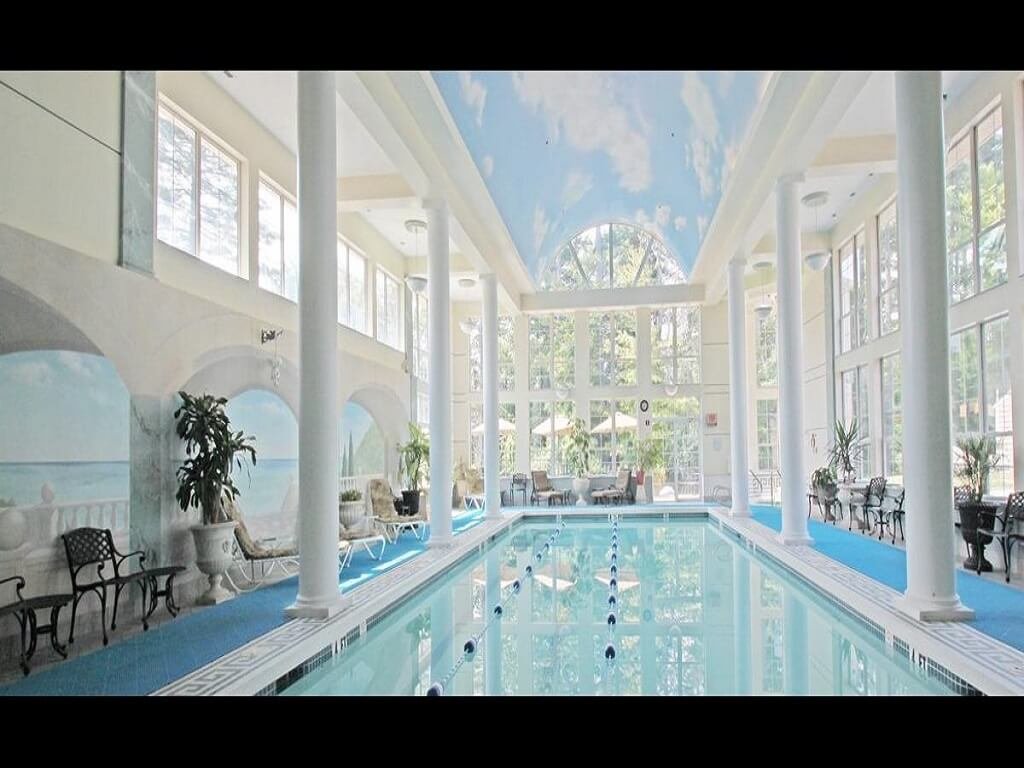 The Senator Inn Spa is one of the best places to recover from the weariness associated with travel. The spa is ideal for spending private time in the city. It offers numerous skin and body-rejuvenating treatments, including massages, sessions, pedicures, manicures, body wraps, and other spa services.
The spa offers a variety of programs to suit your tastes. With Senator Inn Spa's very serene and calming environment, any treatment you receive will be well worth every penny.
14. Rock Shop
If you appreciate shopping and are looking for something unique, Sonny's is the place to go. There are numerous colorful handmade things fashioned from rocks and gems that are certain to complement your interior design.
Rocks and stones have been gathered from various regions of the world; not all of them are for sale, but many of the items you see are for sale. The location is educational for the entire family, and there is never any pressure to spend money.
15. The Governor Hill Mansion
The Governor Hill Mansion offers four spaces for public rental, and tours are also available. The Parlor can accommodate up to 54 guests, while the largest venue, Columbus Hall, can accommodate up to 250 guests. Other rooms include the reception area for up to 10 guests and the Gold room for up to 15 guests. It is a magnificent structure with beautiful rooms. It is an ideal location for taking photographs to commemorate your vacation.
16. Marketplace at Augusta
One of the best things to do in Augusta, Maine, is to spend a day at the Marketplace at Augusta, which offers everything you need in a single location. The Marketplace at Augusta is an excellent site to explore with your traveling friends, as it is Augusta's largest outdoor shopping, dining, and entertainment complex.
Several mall businesses, including Barnes & Noble, Wal-Mart Supercenter, Charming Charlie, Ulta Beauty, Yankee Candle, Sam's Club, Home Depot, and Dick's Sporting Goods, offer a variety of services.
The Marketplace at Augusta features a variety of excellent eateries, including Olive Garden, Longhorn Steakhouse, Chipotle Mexican Grill, Red Robin, and Panera Bread, among others. The facility is immaculately clean and well-maintained, and the ambiance and hospitality are superb.
17. Monument to Samantha Smith
Samantha Smith's participation in anti-cold-war activism in the 1980s brought notoriety to the state of Maine. Samantha Smith, who was less than 12 years old at the time, grew up in Manchester, Maine, and made a significant contribution to the Cold War at such a young age.
The young woman sent letters to the USSR and the United States to end the cold war by negotiating a cease-fire. Samantha's campaigning prompted generals in countries at war to reevaluate her stance. However, she never witnessed the cold war as a young woman because she perished in a plane crash at the age of 13 in 1985.
You can visit Samantha Smith's memorial to pay your respects to a valiant young citizen. It is situated adjacent to Capitol Park.
18. Greenway Trail 
If you enjoy the outdoors, you would enjoy the Greenway Trail. It begins (or finishes, depending on your preference) at Old Fort Western and continues along the river past several historical sites of interest. The track is not paved but is described as easy, so if you haven't been to the gym as frequently as you'd like to admit, you shouldn't worry. This trail is part of a much longer, 381-mile trail in Maine! That would necessitate a pre-workout.
19. Castle-Like Old Post Office and Court House
As a 1974 addition to the National Register of Historic Places, the Old Post Office is one of the most recognizable landmarks in the city. It was built in the 1880s in the Roman revival style and is one of the finest examples of Roman architecture in Maine.
The entire structure was built from local granite and stones. It comprises 2.5 stories and three buildings. The Old Post Office is a courthouse and is located in the downtown section of the city. Currently, the building is privately held and open to the public for viewing its exquisite interiors and architecture.
20. Colburn House State Historic Site
Major Reuben Colburn was a shipbuilder and staunch patriot who resided in this 1765 family mansion in Pittston. The nearby brickyard, boatyard, and mill had a significant impact on the area's development. Colburn was actively involved in this development and the fight for independence.
In 2004, the location was added to the National Register of Historic Places. It was the family's residence for a century despite the financial strains the Major endured throughout his life.
21. The Stained Glass Experience
The Stained Glass Experience is a shopping destination located a few miles outside of Augusta. It is located in Manchester. Monday through Friday, from 9 a.m. to 6 p.m., and Saturday, from 9 a.m. to 5 p.m. In addition to stained glass products and crafting materials, the business also carries various arts and crafts supplies. In addition, it offers lessons in glass art to educate tourists on how to build stained glass masterpieces.
22. Bowling & Entertainment Center
Visiting the 1-7-10 bowling & entertainment center is one of the top things to do in Augusta, Maine if you want to have a great time with your loved ones. The 1-7-10 bowling & entertainment center is a family entertainment complex with many intriguing features to enjoy.
The amusement facility provides guests with a delightful time of enjoyment and relaxation. The 1-7-10 bowling and entertainment facility has twenty beautiful lanes, as well as free bumpers for children. The arcade section of the 1-7-10 bowling and entertainment center features a variety of fascinating games for both adults and children.
There is a sports bar and grill that serves mouthwatering seafood platters, wraps, sandwiches, burgers, salad, and the tastiest pizza in town, which is their signature pie. In addition, the full-service bar offers a variety of domestic and regional beverages. Sunday from 12 p.m. to 6 p.m., Saturday from 12 p.m. to 8 p.m., Wednesday from 10 a.m. to 8 p.m., Thursday from 12 p.m. to 9 p.m., Friday from 10 a.m. to 9 p.m., and Saturday from 11 a
23. Maine Veterans' Memorial Cemetery
Visiting the Veteran's Memorial may be an emotionally charged event for everyone. You can visit the Memorial Cemetery to view the Maine soldiers who fought for the modern world. It is a wonderfully gorgeous location with well-kept trees and plants.
The Memorial Structures are very pleasing. You might take a time to stroll around them and read the names of those who have contributed to world peace.
24. Catch an enjoyable 
The Augusta movie theater Regal Augusta 10 features ten screens for first-run features. A snack bar is located in the foyer, allowing patrons to stock up on snacks prior to the start of the film. Using RealID 3D and digital projection, the technology is cutting-edge.
25. Sam's Italian Foods
The restaurant Sam's Italian Foods in Augusta specializes in delivering delectable international cuisines. The restaurant offers vegetarian, vegan, and gluten-free options alongside its superb Italian cuisine.
Sam's Italian Foods has a bright and energizing atmosphere, and it's a terrific place to experience new and excellent Italian cuisine. They provide a variety of pizza toppings, including Gluten-Free Dough, Greek Olives, Green Peppers, Ham, Hamburg, Italian Sausage, Meatball, Mushroom, Onion, Pepperoni, Salami, and Tomatoes, among others.
26. Sonny's Museum
You can visit Sonny's Museum during your time in Augusta, Maine if you wish to explore your inner geologist. As you approach the Museum, you will notice exquisite stones of all hues on exhibit. In Sonny's Museum, there are a number of hand-sculpted rocks with a variety of hues.
This Augusta museum has collected rocks from around the world and is bringing them in for you to admire. As a memento of the city, you may also purchase some unique pebbles within the Museum. You are not required to purchase the rocks, so you may also visit the museum to view and photograph them.
27. Dunkin
If you haven't eaten the excellent food at Augusta's Dunkin restaurant, you are missing out. Dunkin is your go-to place for delicious coffee and espresso; what better way to start the day than with a special cup of Dunkin coffee?
Each day, the cafeteria feeds hundreds of diners from an enormous menu.
Dunkin offers Sweet Black Pepper Snackin' Bacon, Blueberry Lemonade, Hummus & Roasted Tomato Toast, Egg White & Veggie Omelet Bites, Coffee Roll, Chive & Onion Stuffed Bagel Minis, Turkey Sausage, Egg, and Cheese, as well as more options.
They offer an extensive selection of iced and cold beverages, including Iced Signature Latte, Iced Cappuccino, Iced Matcha Latte, Vanilla Cold Brew with Sweet Cold Foam, Coconut Almondmilk Cold Brew, Oatmilk Iced Latte, Frozen Matcha Latte, Cake Batter Iced Signature Latte, and many others.
28. Harvest Festival
Between September 21 and September 23, the harvest festival is celebrated in Augusta and several other North American cities. You can plan a trip to the city within those dates to avoid missing this significant commemorative event. At the festival, there is an abundance of complimentary food, alcohol, and traditional activities.
29. Festival "What's Family"
If you're visiting Augusta in June, you can attend the "What's Family" festival in Mill Park. You can bring your youngsters to amusement rides, clowns, and face painting. In addition to giving food and hosting concerts by local artists, this festival also hosts sporting events.
Conclusion
The city of Augusta in Maine has a great deal to offer, despite its small size. To spend a pleasant day with your family and other tourists in Augusta. You can visit the city's museums or natural parks. Many of these tourist attractions are accessible without charge. While others may require your assistance in maintaining the facilities.
In Augusta, Maine, sightseeing is reasonably priced. So you may motivate yourself to see the city this summer. Even winter travel to Augusta is enjoyable since.
You can practice a new sport, such as Nordic skiing.
On your trip to Augusta, Maine, don't forget to take pictures of the most intriguing sites so that your friends will be envious.
Frequently Asked Question (FAQ) about Best Things to Do in Augusta Maine
Is Augusta Maine worth visiting?
Augusta, the capital of Maine, is an ideal summer vacation location. The city has existed since the 18th century when it was founded as a trading center. What was once a little city is now a significant source of economic and artistic inspiration for the entire state of Maine.
What is Augusta Maine known for?
Fort Western, a historic British colonial outpost on the Kennebec River that is now the oldest wooden fort in the United States, is a noteworthy landmark in Augusta. The majority of people are unaware that Portland was Maine's capital for a brief period prior to Augusta.
Is Augusta Maine nice?
However, in the past two years, we have likely visited Hallowell only four times, according to Justin. I absolutely adore Hallowell, yet we no longer need to leave the city. Everything we desire is right here, and it only improves with time."
Is Bangor Maine worth visiting?
Bangor, located on the Penobscot River in the state's central region, is known as the Queen City of the East. This small gem of a city offers outstanding dining, shopping, and hotel options, in addition to numerous tourist attractions.
What is the best month to visit Maine?
Consequently, the best time to visit Maine for pleasant weather is between June and August. Summer is the season when beachgoing is possible. You may find yourself elbow-to-elbow with other tourists and battling exorbitant lodging costs, but this is when the state truly shines.
What are some fun facts about Augusta Maine?
Augusta was founded by General James Edward Oglethorpe in 1736. Augusta was given her name in honor of Princess Augusta of Wales. The elite of Augusta resided on Broad, Greene, and Telfair streets. The neighborhood was nicknamed "Pinch Gut" due to the corseted women that inhabited it.
Is Augusta walkable?
There is rarely a need to hail a ride in Augusta. Guests are able to walk from their conference venue to restaurants, museums, shopping, and nightlife due to Augusta's walkability and warm environment. There are more than thirty locally owned companies within three blocks.
How is living in Augusta Maine?
It is lovely, located far north of Canada, and has a small population and wide open spaces. Many visitors find Maine, and particularly Augusta, the capital city, to be a wonderful place to live, especially if you're seeking a family-friendly city with many additional benefits.
Is Augusta Maine Suburban?
Augusta, Maine, has a population of 18,662 people. Augusta is in the county of Kennebec. The majority of Augusta inhabitants own their homes, giving the city a suburban atmosphere. Augusta is home to a large number of young professionals and retirees and its demographics lean liberal.
What is Bangor Maine most known for?
Today, Bangor continues to serve as the economic and social hub of Northern, Central, and Eastern Maine. It has become the greatest center of retail and service industries in the region, as well as a hub for government, education, and employment.
Is Maine expensive to visit?
You should budget approximately $166 per day for your holiday in Maine, which is the average daily cost based on the spending of other tourists. Past travelers have, on average, spent $41 per day on food and $33 per day on local transportation. Also, the average hotel rate for a couple in Maine is $171 per night.
When can you see the northern lights in Maine?
In Maine, the greatest time to view the aurora borealis is from December to February. Spring's longer days and shorter nights make viewing the aurora borealis more difficult, but not impossible.
How many days do you need to visit Maine?
One to two weeks are required to see the most stunning seaside villages in Maine. It is also possible to stay only a few days if you choose one or two cities and undertake day visits from those locations.
How long is the walk at Augusta?
The approximately five-mile stroll amongst the Georgia pines at Augusta National involves more than 11,000 steps ascending and descending. It necessitates striking shots from uneven lies. As required, delving into the pine straw.
How much does it cost to walk in Augusta?
The approximately five-mile stroll amongst the Georgia pines at Augusta National involves more than 11,000 steps ascending and descending. It necessitates striking shots from uneven lies. As required, delving into the pine straw.
Can anyone play at Augusta?
Can I play a round of golf or simply visit Augusta National? No. Augusta National Golf Club is a private club available only to club members and their invited guests. The public may only access the course during the Master's Tournament with a valid ticket or badge.
Is Augusta a tough walk?
Augusta National is well-known for its difficulty among players who have competed in multiple Masters tournaments, such as when Justin Thomas described it as the most difficult walk on the tour schedule.
What is Augusta Maine known for?
Fort Western, a historic British colonial outpost on the Kennebec River is now the oldest wooden. The United States is a noteworthy landmark in Augusta. The majority of people are unaware that Portland was Maine's capital for a brief period prior to Augusta.
Read More:
Why Put a Crayon in Wallet: When You travel?
What Time Zone is Arizona? Does Arizona Have Two Time zones?