Raja Ampat, or The Four Kings, in Indonesia, is well known for its colorful corals. For this reason, liveaboards in Raja Ampat are the perfect destination for those who love dense schools of fish and encounters with weird and wonderful critters.
While diving in Raja Ampat, you'll get to experience the highest biodiversity of marine species on Earth, because this archipelago straddles the Equator and forms part of the world-renowned Coral Triangle. Lucky divers will see an astounding number of rare marine life including wobbegong sharks, manta rays, epaulet sharks, bobtail squid, whale sharks, pygmy seahorses, and thousands of tropical fish.
This archipelago boasts 1,500 small islands with a wide variety of underwater environments, including reef dives, deep dives, and high-speed drifts. Landscapes are volcanic in nature with outstanding coral growth because of the limited population and recently implemented protections.
While there are scuba diving resorts scattered around Raja Ampat's major islands, you'll be able to dive more into the area's 200 dive sites from a liveaboard. For this reason, liveaboards are the most popular form of travel in Raja Ampat.
Dive safaris that explore this region of Indonesia usually depart from Sorong in West Papua. The typical length of liveaboard trips is 7 to 10 nights, although some operators offer shorter 5-night itineraries.
Where is Raja Ampat?
Raja Ampat is situated off the northwest tip of Bird's Head Peninsula on Papua. Where Papua is the most eastern Island of this Indonesian Archipelago.
Raja Ampat is all about diversity and draws in mostly advanced divers. This is due to its drift diving and currents. It's also an 'off the beaten track' dive location.
Raja Ampat is probably not suitable for beginner divers due to the strong currents. It's worth reading the quote below from someone who experienced a strong down-current!
How to Get to Raja Ampat?
First, of all, you need to get to Sorong. There are no direct international flights here, but you can fly in via Jakarta, Makassar, Ambon (some liveaboards leave from Ambon!), or Manado. It's also possible to fly there from Bali, with a stopover. We recommend going with one of the following airlines: Lion Air, Xpress Airways, Sriwijaya Airlines, Nam Airlines, or Garuda Indonesia.
Generally speaking, a return flight from Jakarta will cost around $450- $600. Flights from Bali should cost around the same. Click Here for our favorite place to book cheap flights with some excellent last-minute deals. Do note there are no ATMs in Sorong so make sure you have plenty of cash beforehand!
Fortunately, once you've reached Sorong there's no need to concern yourself with any of the rest of getting to Raja Ampat. That's because to make life simple for their guests, most liveaboard operators offer transfer services from Sorong Airport and hotels directly to and from their vessels. Nice!
What To Expect on a Liveaboards in Raja Ampat?
Liveaboards in Raja Ampat are the perfect way to explore this amazing dive area. Allowing divers to visit remote and unspoiled areas of Indonesia. Synonymous with stunning islets, crystal clear water, and beautiful white sand beaches Raja Ampat is one of Indonesia's most beautiful regions.
The archipelago is made up of more than 1,500 islands scattered across a large section of the coral triangle close to New Guinea, perfect for divers to explore by liveaboard. Its fortunate position between the Indian and Pacific oceans means that it is looked upon as one of the richest areas of marine life in the world.
Besides the numerous smaller islets there are four main islands that Raja Ampat liveaboards visit: Salawati, Batanta, Waigeo, and Misool. These islands give rise to the name of the archipelago, 'the Four Kings'. Local legend tells a story of how four kings emerged from eggs that were found by a woman after they hatched they each became a ruler of one of the main islands.
The area was subsequently conquered by the Europeans and was possessed by the Dutch for a time. In modern times the main industry is tourism, the population is Indonesian and most work either in the tourism industry or fishing. The area has recently introduced a marine park fee for liveaboard visitors to help with the efforts to conserve the marine life in Raja Ampat.
This fee helps to support patrols and projects to conserve the reefs. Despite the blossoming tourist industry in Raja Ampat, the area manages to retain its untouched feel, especially on a liveaboard anchored off mostly uninhabited islands.
13 Reasons to Visit Raja Ampat, Indonesia
Hidden Paradise
Scuba Diving in Raja Ampat
Snorkeling in Raja Ampat
Pure Natural Beauty
Birds of Paradise
Waterfalls & Rainforest Adventures
Cultural Encounters
Highest Underwater Biodiversity Worldwide
Breathtaking Views
Extraordinary animals on land
Breathtaking Landscapes
Amazing sunsets & a stunning night sky
Friendly locals and a laid-back lifestyle
The Climate, Diving Season, and Best Time to Visit Liveaboards in Raja Ampat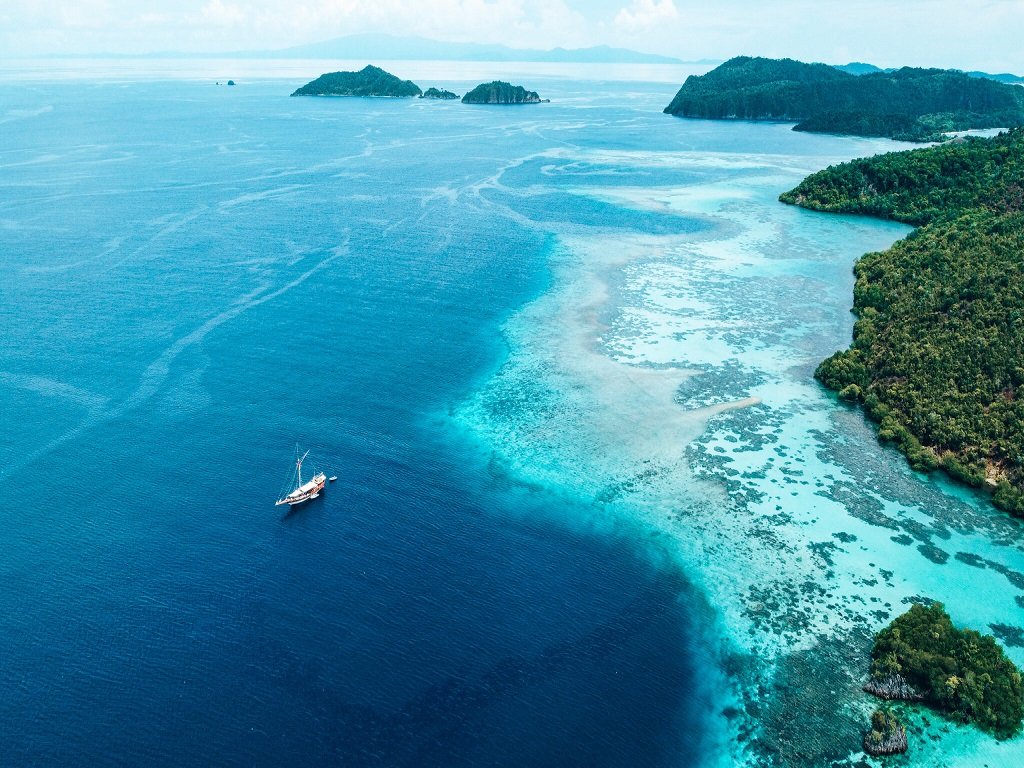 The West Papua Province has some liveaboard boats operating all year but many Raja Ampat diving operators restrict their charters to October-April as there is less chance of rain and choppy seas then. Outside of these times, the Indonesian liveaboards often move onto Komodo and Banda, or over to the north coast of Papua into Cenderawasih Bay for the whale shark season.
Water temperatures in Raja Ampat are warm all year round, ranging from 30°C in November to April, to 27°C from May to October. October to April is peak manta ray season as they come in great numbers to feed on the plankton blooms.
Best 15  Places to Stay in Raja Ampat, Indonesia
Finding where to stay in Raja Ampat, Indonesia is the first step toward the best dive trip of your life. Picking the right area and hotel will impact the quality of your scuba diving or snorkeling. You can read about the accommodation types in Raja Ampat – homestay, dive resort, or liveaboard.
Homestay
Liveaboard
Dive Lodge
Dive Resort
Agusta Eco Resort
Waiwo Dive Resort
Papua Paradise Eco Resort
Raja Ampat Biodiversity Nature Resort
Cove Eco Resort
Misool Resort
Kordiris Homestay
HamuEco Dive Resort
Papua Explorers Resort
PapuArts Alter-Native Stay
Kakatua Hostel
Best Liveaboards in Raja Ampat Reviews
During these months, you'll have the greatest selection of liveaboards and the best weather. Surface conditions are calm and the skies are generally dry. However, Raja Ampat can be dived year-round, and the same amount of marine life is present in the off-season as well.
It's recommended that divers visiting Raja Ampat have at least an intermediate skill level and feel comfortable in unpredictable conditions. Currents can pop up from time to time in this region, but most dive sites are calm with great visibility.
1. Damai II Liveaboard
The Damai II is the liveaboard of choice for those who want to be pampered on their holiday. This dive safari can easily compete with a land-based luxury resort.
The range of amenities available on this yacht is sure to impress. The 130-foot (40-meter) traditional yacht was designed for small group dive safaris. In addition, each room is equipped with reef-safe amenities such as suntan lotion and shampoo, as well as a 3G hotspot so that you can always be in contact with the outside world.
Divers will enjoy the spacious dive deck and the high-speed tenders that are used to reach the dive sites. Plus, there's unlimited diving (as long as your air lasts) with a ratio of 1 guide to 4 divers.
With 7 staterooms, the maximum number of divers is 14 yet the crew of each vessel is 20 members strong. You're sure to get personalized service, and you're definitely going to enjoy a heavenly dive vacation on the Damai II, one of the most luxurious liveaboards in the world.
2. Amira Liveaboard
Amira was built with locally grown timber by indigenous craftsmen using ancient Pinisi boat-building traditions. She is equipped with a state-of-the-art navigation system, security and rescue equipment, and technology. She is an ideal base camp for the most beautiful dive excursions in Komodo, Raja Ampat, and Banda.
3. Pearl of Papua Liveaboard
This 30m Raja Ampat liveaboard is led by a 12-member crew who are all highly knowledgeable about the area. The divemasters are able to navigate their way through the waters with ease.
While the ship is a luxury-style liveaboard, the price is definitely a lot cheaper compared to the other liveaboards in the area. Offering premium cabins, onboard massages, and delicious meals, this boat is a great choice for the budget-conscious.
The boat is outfitted with gear stations, rinse tanks, camera tables, and battery charging stations for underwater photographers. The Pearl of Papua runs multiple trips, varying from eight to eleven days, covering the best of what Raja Ampat has to offer.
4. Calico Jack Liveaboard
Calico Jack has only 5 cabins, making her a great choice for anyone in search of a more private experience. This is also an extremely good liveaboard for non-divers, as there are many extra activities featured throughout the various itineraries, plus extra onboard amenities.
5. Kira Kira Liveaboard
Launched in 2014, the 22m sailing Phinisi Kira Kira is a fantastic budget-friendly option for exploring the diverse region of Komodo National Park & Raja Ampat. Hand-crafted over 2 years, the Kira Kira liveaboard was built with stability, comfort, and safety in mind. Able to travel up to 1000 nautical miles, she is highly economic and extremely environmentally friendly. Kira Kira Indonesia caters to a maximum of 8 passengers in 4 cabins, ensuring a more personalized service on board and perfect for friends, families, or individuals who would like to join others on the trip.
Three of the cabins aboard the Kira Kira liveaboard are twins, and there is one roof-top double that offers amazing panoramic views. There are 2 shared bathrooms on board and each cabin has storage space for bags and dive gear and wardrobes and ample room for clothes, personal belongings, laptops, cameras, and gadgets.
For relaxation, guests can choose to lounge on the sun deck or open-air lounge with stunning sunset views, read a book, enjoy a cold beer or pick up some cooking tips from the onboard chef. Meals will be a selection of freshly-cooked Indonesian and Western meals, along with the catch of the day, and freshly baked bread and treats throughout the day.
Divers will enjoy the stunning diversity of Indonesia, with trips to Komodo National Park to see Manta Rays and Komodo Dragons, and Raja Ampat with all the amazing bio-diversity it offers and new dive sites being explored regularly.
6. IIike Liveaboard
This traditional phinisi boat offers year-round trips all over Indonesia, including the Raja Ampat Archipelago. It offers competitive rates and has an almost 1-1 guest and crew ratio, making sure you're in good hands.
When you're not busy diving, you can lounge around on the sun deck or in the open-air lounge with a good book. People who have done this liveaboard rave about the delicious local and international meals served throughout the trip.
7. SMY Ondina Liveaboard
After undergoing a renovation in 2014, the Ondina was relaunched with 8 air-conditioned cabins with en-suite bathrooms, a large outside deck, and an entertainment/dining area.
The food is served buffet style and is a mix of both Asian and Western meals. One thing is for sure: you won't go hungry when onboard.
The Ondina makes trips around Raja Ampat for nine to eleven nights, going to some of the best scuba diving sites in Raja Ampat. The divemasters are extremely helpful and knowledgeable, and will safely guide you around these pristine waters.
8. Sea Safari Liveaboard
The Sea Safari 6 Liveaboard is a luxury Phinisi vessel, schedules year-round trips to the impressive dive sites of Indonesia, including Raja Ampat, Komodo, Maumere, Lembeh, Wakatobi, Ambon, Ternate, and the Forgotten Islands.
The KLM Sea Safari 6 Liveaboard has 10 air-conditioned cabins, each with en-suite bathrooms. Built over 4 decks to offer space and comfort, the KLM Sea Safari VI Liveaboard leaves plenty of room for relaxation. The KLM Sea Safari 6 has an air-conditioned restaurant and lounge area, with a 32" LCD TV and DVD player and a stunning outside bar area where you can watch beautiful sunsets or talk beneath the stars. There is also a relaxing sun deck area to chill out in between dives.
The spacious diving station allows plenty of room for gear storage and there are separate rinse tanks for dive equipment and underwater cameras, as well as a dedicated camera table. As will all the Sea Safari Fleet, their vessels are equipped with modern navigation systems and up-to-date first aid and safety equipment. Start your Indonesian scuba diving liveaboard adventure and reserve your place today.
9. Solitude Adventurer Liveaboard
The newest addition to the Solitude Liveaboards family, Solitude Adventurer (IMO MV Mega Adventurer) is a 36-meter (118ft) aluminum catamaran vessel that specializes in dive trips around the Indonesian region. Solitude Adventurer can cater to up to 18 guests and has plenty of features to make sure everyone onboard feels safe and comfortable, whether they're getting ready for a dive or lounging around during surface intervals.
10. Jaya Liveaboard
The Jaya is our expedition vessel. She moves seasonally between Komodo, Raja Ampat, and long-range expeditions. Built-in 1999, she sailed and ventured into the waters of South East Asia with her faithful captain, who has been running the boat since the beginning.
Below the deck, 7 cabins can accommodate a total of 14 guests. The 4 twin cabins with two shared bathrooms and 3 double rooms with en-suite bathrooms are each equipped with an AC unit to keep you refreshed and power sockets for charging. All bathrooms provide freshwater showers, shampoo, and soap to keep up with basic hygiene.
11. Epica Liveaboard
In Raja Ampat, Epica offers the most entertaining and unique itineraries by far. She offers a variety of trips that explore the best dive sites in the northern, central, and/or southern regions of Raja Ampat.
With daily themes such as "Sensory Overload," "Pelagic Magic," and "Fish Frenzy," the atmosphere is extremely friendly and entertaining; guests can enjoy thrilling night dives, action-packed drift dives, and wall dives, among other activities.
12. Tiare Cruise Liveaboard
The Tiare liveaboard provides year-round luxury dive cruises to Indonesia, visiting the world-renowned dive sites of Komodo National Park, East Flores, Alor, the Forgotten Islands, Banda Sea, and Raja Ampat. Divers may choose between air and Nitrox 32 (certification required), and all tanks are equipped with either DIN or international valves.
Each diver will have their own diving station with individual storage and access to the dive deck's hot showers. Each diver will additionally be equipped with a "ENOS" beacon for added safety. There is a dedicated camera room with multiple charging stations and camera benches for underwater photographers.
13. Dewi Nusantara Liveaboard
The Dewi Nusantara was created for those who seek quality, safety, attentive service, and the most elegant schooner on the market. While exploring the Indonesian archipelago, divers are safe and comfortable. Their mission is to provide guests with a first-rate cruise experience in unrivaled diving areas.
14. Raja Manta Liveaboard
The Raja Manta, formerly known as the M/V White Manta, is a mid-range liveaboard and one of the best options for those looking to experience Raja Ampat in comfort and elegance.
Nitrox, full scuba equipment, camera tables, and rinse tanks are among the amenities provided for divers. Guests can unwind in their en-suite cabins or in the air-conditioned salon with its large plasma television and DVD player. The staff is extremely friendly and attentive, making the entire diving experience enjoyable and unique.
15. Gaia Love Luxury Yacht
Gaia Love, a gorgeous and contemporary yacht, offers exceptional diving safaris around the best of Raja Ampat, with the option to dive off the Spice Islands as well! In addition, there are a spa and private balcony cabins.
Additional Liveaboard Destinations you might enjoy
Jelajahi Laut
Scubaspa Zen
Empress II
Mutiara Laut
Samambaia
Mermaid II
Seaisee
Aurora
Mermaid I
La Galigo
Lady Denok
Mari
Coralia
Neomi Cruise
Komodo Sea Dragon
Panunee
Oceanic
Aliikai Voyage
Jakaré
Adelaar
Leyla
Sokaraja
Fenides
Gaya Baru Indah
Moana
Cheng Ho
Caesar Harmoni
Ratu Laut
Duyung Baru
Raja Ampat Explorer
Putri Papua
Indo Aggressor
Amaya Explorer
Neptune One
Mikumba 2
Akomo Isseki
Busy Girl
Bajak
Queenesia II
Queenesia
Perfection of Papua
Pindito
Cajoma IV
Aggressor II
Tarata
NusaTara
Kurabesi
Seven Waters
Carpe Diem
Ikan Biru
Indo Siren
Emperor Raja Laut
Wellenreng
Situju7
TemuKira
Mischief
Samata
Tiger Blue
Anthias
Andamari Phinisi
Adishree
Supraba
Gammara
Cruise Ship Katharina
Ombak Putih
lataran Phinisi Ambasi
Phinisi Felicia
Navila
Inlet Ocean
Taka Explorer
Samara I
Samara II
Phinisi Malayeka
Velocean
MSY Mutiara laut
Sea Safari VII
Alikai
Best time for a Liveaboards in Raja Ampat Excursion
The weather in Raja Ampat is notoriously temperamental and unpredictable. However, guests should not be concerned because liveaboard operators meticulously plan their tours and itineraries to ensure their guests' comfort and safety.
When is the optimal time for liveaboard diving in Rajah Ampat?
Despite the fact that some boats/vessels offer trips year-round, liveaboard enthusiasts recommend October or November as the ideal time to go out on the water. If you are unable to travel in October or November, you can still go on a liveaboard during the remainder of Raja Ampat's dry season, from October to April, when the sea is expected to remain calm.
It is important to note that liveaboards are discouraged from May to September due to the increased likelihood of heavy winds and rainfall. If you are willing to brave the conditions and want to see Manta Rays and dive with them, you can still go on a liveaboard between May and October.
Extended Liveaboards in Raja Ampat Trips
There are liveaboards that offer trips lasting up to 15 nights if you're interested in spending more time on the water. A vacation with so much diving, so much sun, and such a memorable experience.
Participate in one of these extended excursions and become an expert on the marine life of Raja Ampat. You will have the opportunity to travel to more remote locations, dive more frequently, and vastly improve your water skills and confidence.
On longer journeys, you may have the opportunity to take a land excursion. If this is something that interests you, be sure to check your itinerary when booking your trip.
Frequently Asked Questions (FAQs) about Liveaboards in Raja Ampat
Is Raja Ampat a good diving location?
Raja Ampat offers some of the finest scuba diving in Asia and the entire world. Raja Ampat, located in the northwest of Papua, is in the coral triangle, which explains its abundance of marine life. It is home to more than 1,200 species of fish and corals and is generally pristine and abundant.
When is the optimal time for diving in Raja Ampat?
October to mid-December is the optimal time to embark on a liveaboard in Raja Ampat. However, boats operate throughout the entire dry season, which lasts until April.
What is famous about Raja Ampat?
Raja Ampat is a group of islands on the westernmost tip of Papua in Indonesia that is renowned for scuba diving. The majority of the world's coral reef biodiversity and rare marine species can be found in an archipelago roughly the size of Switzerland.
How soon should I visit Raja Ampat?
This is a year-round destination, but September through April is the best time for divers to visit Raja Ampat, when large numbers of manta rays are present at cleaning stations. Visit in November, December, January, February, and March for the calmest waters and highest visibility.
What is diving like in Raja Ampat?
Scuba diving in Raja Ampat is breathtakingly magnificent and truly unforgettable. Hard and soft corals vie for space on reefs teeming with life and vibrant color. On the reef flats, swarms of small fish such as damsels, fusiliers, and anthias swim about.
How do I get to Raja Ampat?
To reach Raja Ampat, you must first fly to Sorong from Jakarta or Makassar. There are small aircraft that can transport you to Waisai, the district capital of Raja Ampat, or you can take a ferry from Sorong to the islands.
How much does scuba diving in Raja Ampat cost?
All visitors to Raja Ampat are required to pay an annual fee to enter the marine park. The fee is IDR 1,000,000 per person (or IDR 500,000 for Indonesian citizens) and is valid for one year.
Is diving in Raja Ampat the best in the world?
Cape Kri in Raja Ampat is considered by many to be the best diving spot in the world, as it holds the record for the most fish species discovered in a single dive. The location is in the waterway between the westernmost tip of Pulau Kri and the minuscule islet of Koh.
Is Raja Ampat a suitable location for snorkeling?
Raja Ampat, Indonesia is home to some of the highest marine biodiversity in the world. Raja Ampat is located in the heart of the Coral Triangle. It is also home to some of the best snorkeling and scuba diving in the world, which are best experienced on one- to two-week liveaboard excursions.
How long does it take to get from Bali to Raja Ampat?
The fastest flight includes a stopover and lasts 7h 30m. Once in Sorong, take a ferry for approximately two hours. Raja Ampat is a destination that must be earned: the journey is lengthy, expensive, and requires extensive planning in advance.
How do I travel between Singapore and Raja Ampat?
No direct connection exists between Singapore and Raja Ampat Island. You may also take a ferry to Batam Centre, a taxi to Hang Nadim airport, a flight to Sorong, and then transport to Raja Ampat Island.
Where is the Raja Ampat Reef located?
Where is Raja Ampat located? The Raja Ampat archipelago, a part of the Coral Triangle, is situated in the northwest corner of Indonesia's West Papua province, encompassing 40,000 km2 of land and sea and comprising more than 1,500 islands surrounding the main islands of Misool, Salawati, Batanta, and Waigeo.
Is Raja Ampat a nation-state?
Raja Ampat, also known as the Four Kings, is an archipelago located in Indonesia's West Papua province, off the northwest tip of Bird's Head Peninsula on the island of New Guinea.
How do I travel between Bali and Raja Ampat in Indonesia?
Before continuing on to Sorong from Bali, you would have to make a connection in Jakarta and/or Makassar. Which would add at least nine hours to your journey. To reach any of the Raja Ampat islands, you must take a speedboat — either on a private charter or as part of a group tour — from Sorong.
What is the significance of Raja Ampat?
In Raja Ampat, exactly 537 coral species have been documented. This is an astounding 75 percent of all coral species in the world. Also quite remarkable is the fact that 96% of all hard corals in the vast Indonesian archipelago are found in Raja Ampat.
Read Also:
10 Biggest Island in The Philippines
6 Travel Stress-Free Essentials for Spring Travel
What is Travel Enthusiast: Best 35 Ways Become a Travel Enthusiast
Distant Adventures – Vaccination and Travel Abroad
Why Should You Travel in Zambia?
Top 10 Female Adventure Travel Destinations in Europe