How to shower when camping is among the most often requested questions by new campers. It is a logical question that is not always straightforward. Sometimes you can take a shower, and sometimes you can't, but regardless, it is essential that you remain clean. Showering at home is fairly simple. However, how does one shower when automobile camping? We have located multiple solutions, so you need not worry.
During the summer, one may perspire more than usual due to the high temperatures. When engaged in outdoor activities such as setting up a tent or hiking, the situation becomes considerably worse. In this essay, I will discuss how to shower while camping and how to stay clean if you are unable to shower.
Why is Showering While Camping Essential?
While camping, daily showers are not customary, but sufficient showering to eliminate excess dirt and oils is desirable. Showering removes harmful bacteria from the skin, prevents acne, and eliminates odors, all while leaving you feeling clean and allowing you to sleep better.
It may not be necessary to take a daily shower, especially if you do not perspire or engage in physical exercise, but it is generally considered a healthy practice.
A minimum of once per few days should be spent rinsing with clean water to ensure proper hygiene. If freshwater is unavailable, you will need to adopt an alternative means to shower and make your camping trip more enjoyable (more on these methods later in this piece).
Read More: What Is a Time Zone?
How Can I Prevent Body Odor While Camping?
To remain immaculate, you should seek out an eco-friendly soap that does not hurt wildlife or pollute waterways. Soap allows you to eliminate grime and grease that accumulates after a few days of outdoor camping. You may also use this soap to wash your clothes, which will help you feel cleaner and smell nicer when camping.
You can apply deodorant to prevent body odor and disguise any unpleasant odors on your body or clothing until you can take a bath or shower. Some campers also wear merino wool, which does not retain odors and may be worn for several days without needing to be washed. Consider this trekking underwear and these merino wool base layer tops for additional information.
How to locate showers when camping?
When reserving a campsite online, the majority of websites provide a search option that makes it simple to determine whether or not your selected campground provides on-site or nearby shower facilities. There are numerous additional camping websites and applications that can assist in locating campsites with showers.
The following are some of my favorites:
Free campsites and just net-free camping locations
Hipcamp.com (app): hosts list numerous paid and free camping choices.
iOverlander (application) is designed for boondocking, vehicle, and RV travel.
By city and state, PublicShower.directory provides a wealth of shower options across the United States.
If you are camping for an extended period of time, it may be worth the money to sleep and shower for free while making new acquaintances along the road.
21 Best Tips: How to Shower When Camping?
1. Community Showers
Whoever has heard of public showers? There are more public showers than you might believe; you simply need to know where to search.
You might begin by searching for campgrounds with public showers in their restrooms. These campsites may cost a bit more or even be pay-per-use, but they are typically located on-site, a short distance from your tent.
Additionally, local truck stops and public beaches offer public shower facilities. Numerous truck stops feature shower facilities, as do the majority of public beaches. There, you can don a bikini and lather up with soap.
Read More: Why the Merzouga Desert is a Magical Place
2. Modified Camping Showers
If you do not have access to a portable camping shower, you can still create one using the resources you have available. A huge water bottle with little holes on the bottom will provide sufficient water for a shower.
Similarly, a bag with holes at the bottom will function in the same manner, but may not be suitable for use with hot water. You can use hydration reservoirs if you remove the mouthpiece valve at the end, and they have the extra bonus of being multipurpose and already packed.
3. Water Supply
Previously, we advised against bathing near a natural water source. However, this is only true if you intend to use soapy products. You can bathe in a lake, stream, or waterfall if you merely wish to remove natural oils and grime.
There might even be biodegradable materials that can be utilized in surface water. To clean yourself, use a washcloth and a small quantity of soap. Avoid using excessive amounts of the product to prevent contamination.
4. Portable showers
Amazon offers a prefabricated product known as a portable shower. Depending on your demands, you can choose between the solar, battery, and gas-powered portable showers.
Consider purchasing a portable shower that can be charged with the vehicle adapter if you are traveling in a car or a van. An illustration is the Ivation portable outdoor shower. It utilizes a rechargeable lithium battery that can be recharged in less than 60 minutes using a car charger or a laptop.
If you are searching for something different, or if you are not going by car, portable solar showers are also available. Such an example is the extremely popular 5 Gallon summer shower from Advanced Elements.
Because it is fueled by solar energy, the water will not be chilly. On it is a temperature indicator that will help you determine whether the water is warm enough. It is simple to use and includes a side pocket for soap or shampoo.
5. Solar Rainfall
The solar shower can be thought of as an insulating bag used to heat and store water. It comes with a hose for draining the showerheads and water. It is the most practical option, particularly for individuals who dislike bathing in cold water. I enjoy solar showers because they are easy to fill, quick to move, and easy to use.
Before choosing a solar shower, it is necessary to consider its characteristics and components, as there are a number of options. Solar showers can store at least 5 liters. They are filled with water and placed under the sun for three to four hours with the transparent portion facing upwards to generate heat.
I would suggest placing it on locations that absorb heat more quickly, such as dark granite, or on the dashboard of your car, and then driving while the water warms up. Absolutely. Once the water reaches the desired temperature, hang it on an upright in a shower tent with a pop-up design, then hold it with your hands, or possibly on a tree limb that you can carry to the solar bath by the strap, or take a shower.
In order to determine the amount of water available for a shower, it is also vital to place the clean side facing you. After utilizing my Advanced Elements Solar Shower on multiple automobile camping trips, I particularly appreciated it.
Read More: Book Taxi Cab for Taj Mahal Sunrise Tour From Delhi
6. Hygiene Tents Showers
When washing up in a campground or even in the wilderness, you may choose to conceal yourself with a hygiene tent. These tents are designed for walking into and standing up in, but little else. Having dimensions of approximately 4′ by 4′, they do not occupy a great deal of space.
Additionally, these tents typically lack a floor, allowing water to drain directly onto the ground. These tents are suitable for both showering and storing portable toilets. When you plan to take a shower at your automobile camping site, you must have a hygiene tent.
When camping outdoors, it may not be necessary to bring a whole hygienic tent. You may bring a tarp and some rope to create your own privacy screen in this situation.
Alternatively, you might simply wear a swimsuit and bathe without removing it. This could be a simple solution when automobile camping is in close proximity to others and lacks a privacy tent or tarp.
7. Showers Powered by Batteries
These gadgets are suitable for off-grid camping throughout the winter months. This is a rechargeable device used by the majority of campers.
It is an extremely efficient and portable device. The majority of the battery's capacity is 2200mAh, and it can be charged using a 12v auto converter, power bank, or even a laptop. Depending on the model, it can be used for up to 60 minutes after being charged at home for 2 to 5 hours.
The majority of it features an S-shaped hook that allows one to hang it securely, for example, on a tree or on a car window, making it hands-free. This feature is advantageous for car campers with children because infants can be bathed with two hands.
Battery-operated showers require a charge to pull water from a water tank and push it to the shower head via the horse pipe. It has a very calming effect on everybody, which is an extra benefit. I would also recommend it to children.
The primary drawback of this battery-powered shower is that it must be charged before to use and also requires an auxiliary tank or bucket. If you desire this type of shower, Ivation Portable Shower is an excellent option.
8. Water Reservoir Showers
One of the easiest ways to conserve water when automobile camping is to take a shower using a water bottle. This can be accomplished by filling a jug or bucket with water and showering with it.
Not only does this conserve water, but it can be more pleasant than a handheld shower sprayer. If your container is sufficient enough, you can even take a full-body shower. Simply ensure that the container is put in an area where it cannot be tipped over.
9. Portable Shower Tent
If you're like me, you enjoy the outdoors and are willing to rough it when the opportunity arises. Surely you've thought at some point, "Wouldn't it be fantastic if I could shower outdoors?"
A pop-up shower tent is exactly what you need if you want to feel clean after a day of trekking or swimming but don't want to carry along bulky camping equipment. A pop-up shower tent facilitates the creation of a personal shower when camping. It is simple to assemble and disassemble, small enough to fit in any backpack, and light enough to carry with comfort.
10. Multi-Use Systems
REI's dromedary bags are a similar solution that functions as a water purifier when not being utilized as a shower. You may use these bags with gravity water filters to purify water, but the bags are often black, so you must immediately heat the water within, and they have a showerhead hose connector. This is an excellent two-for-one choice for space-conscious travelers.
11. Roof Rack Alternatives
Check out the road showers with water tubes that attach to your vehicle's roof racks if you value simplicity but appreciate the cool feature appeal. Fill the water reservoir prior to traveling, let the sun do its work, and when you stop for the day, attach the hose for a hot shower that is pressurized by the height difference between the roof of your SUV and the shower handle. Simple and incredibly sleek!
12. RV Shower (Indoor / Outdoor)
Chances are, if you rent an RV, it will contain a stand-up shower. And propane will likely be used to heat the space on demand.
And some RVs include an exterior shower nozzle. This is great for rinsing off after coming back from the beach. Or for removing mud after a trail ride on a rainy day.
13. Camping Showers with Pressurization
A pump-action camp shower is similar to a typical weed sprayer or water pistol in that the canister is pressurized to spray out the liquid.
Pressurized showers are meant to store and spray hot water as opposed to cold water or chemicals, and are therefore slightly more durable. The plastic will be thicker to resist higher temperatures, and the hose and nozzle will be more robust.
There are several choices available, ranging from the traditional hand pump to more modern foot pumps. Both are designed to be used on the ground and neither requires the shower to be suspended over the user's head.
You will still benefit from suspending the nozzle above your head, as this will free your head from soap application. As a result, a foot pump is more convenient than a hand pump, as you may continue to press down with your foot while washing your hair while camping.
14. Foam Bath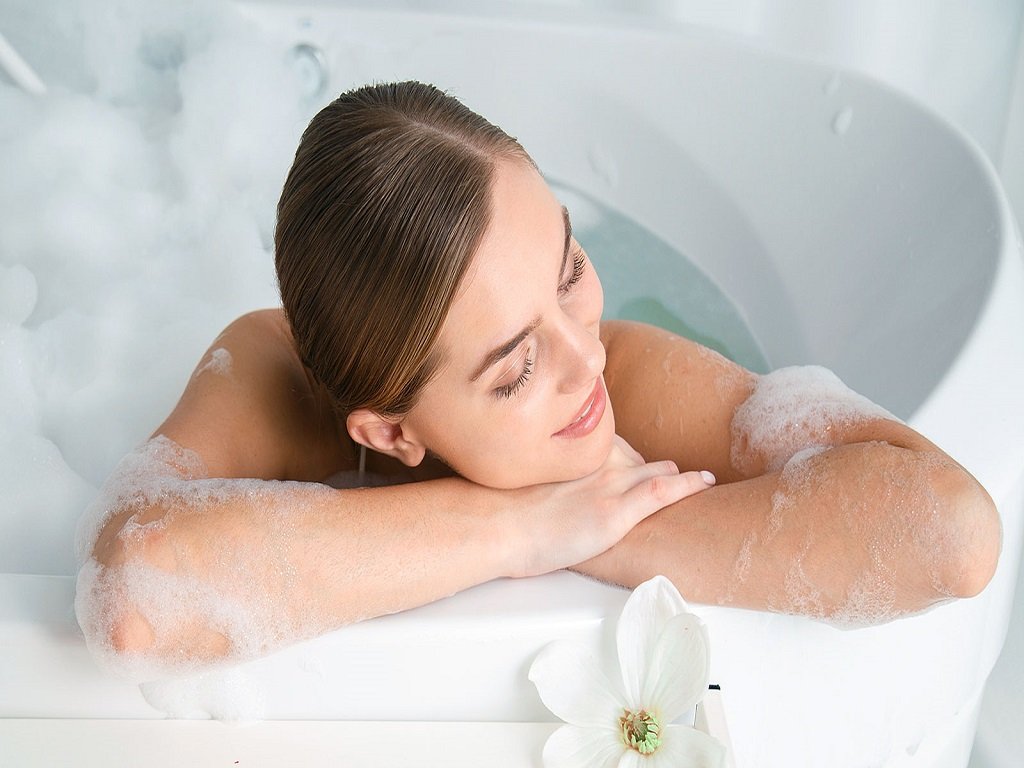 Even if you do not have access to a lake or bathing facilities, a good camper will always have ample water. The sponge bath is one of the most fundamental camp showers. Use any little bottle or container of water, a small amount of soap, and a sponge for a quick body scrub.
This strategy assures you do not squander an excessive amount of water. You can hit all the dirtiest, smelliest spots and rinse them off with small amounts of water.
15. Camping Shower System
Technological innovations have brought about a new type of camping shower that will pump water electrically using a portable battery. These electric camping showers are ideal for weekend camping excursions but must be recharged after around 45 to 60 minutes of use.
You just set the electronic pump into a huge container filled with water and then use the shower head as you normally would. These systems have a higher flow rate than pump-action or gravity-fed systems, thus they consume more water but provide a nicer shower.
16. Hot-Water Car Shower Kit
A car shower kit with hot water is one of the costlier solutions. A hot-water automobile kit consists of a water tank, a pump, and a showerhead nozzle. The system connects to the engine compartment of the vehicle, allowing water to be heated by outflow heat while the engine is operating.
Similarly, the water storage tank is insulated. This permits shower-appropriate water temperatures to be maintained. The water reservoir contains a separate compartmented tank for cold water, allowing for the usage of both hot and cold water.
A hot-water car kit necessitates that you shower directly outside the vehicle; consequently, a privacy tent should be paired with a hot-water car kit. Adjust the temperature controls on the water reservoir when you are ready to shower.
Read More: Relinquish The Beauty Of Taj With Our Package By Car
17. Foot-Pump 
A foot-pump shower can, in a sense, "defy gravity." You can use a pump to pressurize the water in the bag on any surface. Numerous showerheads have height-adjustable hoses and showerheads.
By stepping on the foot pump, you can obtain adequate water pressure and enjoy unrestricted use of your hands. Because they do not require batteries, they are less expensive. For warmth, the bag must be placed in the sun, which is not the most time-efficient option.
18. Portable heated shower
Plan your showers based on your mode of transportation. If you are bike camping or backpacking, you will not be able to bring a lot of water with you. If you are traveling by car, or even better, by van, you can take significantly more water.
You will no longer be able to take regular outdoor showers once winter arrives. The water turns chilly, and it becomes nearly difficult to take an outdoor shower. This is why heated outdoor showers are useful.
Such showers are somewhat cumbersome to carry when hiking. This is typically advised for campers who travel by van or automobile. The Hike team portable propane water heater is an example of a heated outdoor shower of this type.
It includes a shower pump and an automatic safety shutoff. This portable shower is great for trekking and camping excursions. The manufacturer has also opted to include a carrying case, however, we still recommend utilizing it if you intend to travel by automobile.
19. Rainfall in nature
Why wouldn't you utilize a nearby source of freshwater? While this strategy is very impossible to implement during the winter, it can be a double-win during the summer. You will be able to appreciate a lake's beauty while still keeping personal hygiene.
Look for clean-appearing water sources. In general, moving water (lakes) is cleaner than still water (lakes). Make sure it's not prohibited to swim in the water before you jump in.
Respect the environment, do not use shampoo in the water, and prevent littering. If you must use shampoo, take a bucket and fill it with water. Apply shampoo on your body, pour the water from the bucket over you, and ensure that the shampoo does not reach the water source.
20. Road Rainfall
The installation of road showers on the rack system of the vehicle (the same system used for roof tents) provides the automobile with a cool appearance.
The road shower is compressed instantly and can be pumped with an electric bike pump or tire inflator. It can carry up to 10 liters of water. It is easy to change the water pressure because it is highly adjustable.
It absorbs sunlight to heat the water. However, it is feasible to utilize cold water in any circumstance.
The shower on the street is pricey and requires a roof rack for installation.
21. Community Showers
Whoever has heard of public showers? There are more public showers than you might believe; you simply need to know where to search.
You might begin by searching for campgrounds with public showers in their restrooms. These campsites may cost a bit more or even be pay-per-use, but they are typically located on-site, a short distance from your tent.
Additionally, local truck stops and public beaches offer public shower facilities. Numerous truck stops feature shower facilities, as do the majority of public beaches. There, you can don a bikini and lather up with soap.
What Do You Need To Take A Shower While Camping?
1. Towel
This is quick-drying. There exists such an item. We'd like to believe that we've described the finest approach to taking a shower on your next outdoor vacation, mostly while automobile camping.
It includes the necessary items to carry along. Maintain cleanliness and have more pleasure. When camping, there is no need to hunt for public shower facilities.
2. Shampooing
The ideal shampoo for camping is one that is pleasant-smelling and effective for your hair type. Choose a shampoo that does not leave residue on your hair and that does not leave your hair excessively soft or scratchy after washing. To aid the environment, use a shampoo that is biodegradable.
3. Soap
While camping, you should always bring at least one bar of soap so that you can clean up after having a shower. Ensure that the soap contains no scents or additives, as these might irritate your skin during the summer months when you are exposed to the sun for extended periods of time. Buy a biodegradable soap.
4. Hook Suction Cups
This is a device that helps you hang your clothes and towels and keeps them dry while you shower. It is an excellent method for hanging soap bags or carrying bags.
5. Slide-Ons
Most outdoor showers are somewhat unreliable and used by a large number of individuals who may not take as much interest in their personal hygiene as you do. To safeguard your safety, wear flip-flops that shield you from insects, items, and bacteria that could do you injury. If you are a newbie, leave your Gucci slides at home.
6. Shower Curtain 
Since most spaces are open, this large piece of fabric can be folded around a spring rod to increase seclusion.
It creates a place resembling a bathroom, allowing people to take a shower as they see fit.
7. Spring Rod
This rod is designed to be twisted into an aesthetically beautiful form, such as a rectangle or rectangle. This rod can be used to make a lovely bathroom by connecting the curtain. If a person forgets to install the suction cup hook, it can be used to hang towels.
8. Towel holder
This allows you to hang a damp towel inside your tent or on a tree branch. They weigh almost little and take up hardly any room, so transporting a few of these is no major concern.
9. Floor Mats
A floor mat of some sort will also keep your feet clean and provide you with additional showering alternatives. Rubber welcome mats, RV sand mats, snap-together foam or teak tiles all help to create a quick spot to stand and avoid the mud that will be created by your shower.
How Should Long Hair Be Cleaned While Camping?
Long hair is quite attractive, but it may be a nightmare to maintain while camping. It is not essential. Plan to give your hair some time, and you'll find that it looks magnificent wherever you go.
Before turning off the water in the shower, fully drench your hair from roots to ends. Use shampoo or conditioner that is safe for the environment, and massage your scalp. After that, thoroughly rinse.
If you have little water or a tiny reservoir for your shower, concentrate your hair-washing showers on your hair and focus on the key portions of your body. And if you lack a shower but must wash your hair, have a friend throw water over your head.
Read More: Why the Merzouga Desert is a Magical Place
Personal Safety and Hygiene
Did you know that the aroma of your soaps, deodorants and other personal hygiene items might attract bears and other animals? Although it is improbable, a bear could destroy your campsite if he detects the scent of your lip balm or toothpaste.
Place these items in your bear canister and hang it from a tree or place it the required distance away from you when camping. Place these goods in your food locker if you're car camping at a state or national park.
Even Backpacker's resident bear recommends skipping deodorant when camping overnight in bear territory.
I only bring unscented personal hygiene goods for myself. These are available at most hunting stores. They help you remain both clean and protected from animals who would otherwise find your odor appetizing.
Final Thoughts
Camping is a fantastic, enjoyable hobby, but let's be honest: it can sometimes be a bit unpleasant and filthy. Learn how to take a shower while camping to save time and energy. As the saying goes, if you are always prepared, you will be OK.
How do you maintain cleanliness while camping? I would appreciate your comments below!
Frequently Asked Questions (FAQs) about How to Shower When Camping?
Do Campgrounds Offer Showers?
A conventional campsite will not have a shower, but many campsites are within walking distance of shower facilities. Nevertheless, many campsites include water hookups that you may use to refill your camping shower without leaving your tent.
If a campsite has water, it will mention "full hookups" or "water only" on the listing. Either choice will provide you with a campground with water.
Exist any portable shower stalls for camping?
Yes! The WolfWise 6.6FT Portable Pop-Up Shower Privacy Tent is one such example. This tent is both waterproof and lightweight. You retain your privacy and remain healthy.
How Much Do Portable Showers Cost?
You can find them ranging from 10 to 200 dollars. Exceptional ones include temperature adjustment, led status indicators, and more. Even a do-it-yourself shower can do wonders for a little camping trip.
How Does One Wash Their Face While Camping?
Using biodegradable soap or facial wipes is the best way to clean your face when primitive camping. Bring your regular soap and use the bathroom sink to wash your face when camping in a campsite with conventional bathrooms.
How to Shower While Winter Camping?
You should acquire some type of portable heated shower. There is also a variant that uses dry shampoo and bath wipes to save money. During the winter months, moisture-wicking clothing that removes perspiration is really useful.
How to Heat Water for a Portable Shower?
Some of the portable showers have a heater, while others are powered by solar energy. I recommend purchasing headphones that are compatible with a car charger.
How Does One Defecate While Camping?
Whenever possible, utilize outhouses, pit toilets, and other designated facilities. Always bury your feces in a cathole that is at least 6-8 inches (15-20.3 centimeters) deep, but never bury or burn your toilet paper. Always bring along feminine hygiene supplies, such as tampons and pads.
How Do You Shower While Camping in Winter?
To take a shower in the cold, you must heat the water and allow it to flow from the top. You can boil water over an open flame and take a shower using any bottle or container. If the weather is sunny, a solar camping shower can be used. Additionally, propane tank baths are common among campers.
How Many Days Can You Go Without a Shower?
If your skin is not often dry, you could apply moisturizer every other day or so. Nevertheless, according to a qualified germ specialist, you can forgo showering for as long as you like.
How Do You Throw Away While Camping in a Tent?
Bring your own camping portable shower If you're using soap, choose a location at least 200 feet away from any bodies of water, hang it from a tree, let the sun warm the water during the day, and then rinse off when you return from your activities.
How should one best shower when camping?
There are numerous options, such as portable showers, do-it-yourself showers, campground bathhouses, etc., but it's difficult to determine which one is the finest.
Where Does a Camping Shower's Water Go?
These collection systems store your shower runoff, popularly known as "gray water," until it can be dumped into a container and transported to a specified location on the campground for disposal.